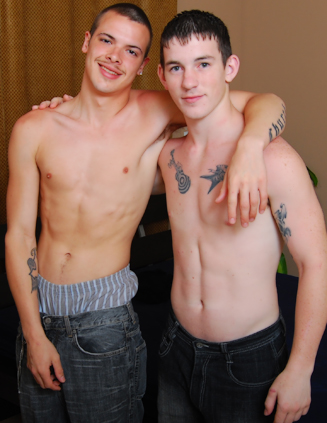 Jamie and Mick are on the Broke Straight Boys bed today and right away, it was obvious that Jamie wasn't a happy camper. As Mick, Jamie and myself started chatting, the reason for Jamie's demeanor was revealed; Jamie is going to get his cherry popped by a very lucky Mick. Jamie commented that he wasn't going to enjoy it but that he needed the money while Mick was doing something different for the day as well, he gets to fuck a virgin. Before Jamie could contemplate changing his mind, I told the boys to get ready.

Mick and Jamie stood up, quickly shedding their clothes before sitting back down on the bed and played with their dicks. However, as they just got started, I suggested they jerk each other off and make out a little with each other. Jamie wasn't impressed with the idea, flipping the middle finger to the camera as Mick, who looked a tad too eager to get into it, leaned in towards Jamie. Locking lips, the boys gently kissed each other for a few moments before reaching down and pumping each other's cock. As they started to put a little tongue into the pashing, it was clear that Mick was getting turned on as his cock was rock hard in mere seconds. I told Jamie that since Mick was ready first, he should go down on him. With a hand wrapped around his own dick and putting in some hard wrist action, Jamie leaned down and took Mick's dick in his straight boy mouth. His head bobbing up and down, Jamie concentrated on sucking on just the head of Mick's cock. It wasn't long before Jamie's skills had Mick panting hard in pleasure. As Jamie came up for air, I asked Mick to rate Jamie's skills on a scale of one to ten, Mick giving Jamie a four. Another minute and Jamie broke off as it was clear his jaw was hurting so I told Mick it was his turn to return the favour.

Without a quibble, Mick bent down and slid Jamie's dick in between his lips. Mick had a natural talent when it comes to cock sucking, something that Jamie obviously appreciated as he held Mick's head in one place so that he could thrust up into Mick's mouth. Mick, being quite shy when compared to Jamie's more outgoing and forceful nature, was content to let Jamie take the lead and face fuck him. As Mick took a quick breather, he jokingly said he had learnt his techniques from Jenna Jameson. Going back down on Jamie, Mick played with his own dick as Jamie rated his skills as a solid five out of ten. Finally, it was time to get to the main event. While Mick stepped to one side and got himself ready, Jamie rolled over onto his back and showed off his virgin ass hole. Rolling back onto his side, Jamie lubed up his hole while Mick waited patiently to one side.

Mick spooned behind Jamie, gently working his cock into the tight hole. Due to Jamie being so tight, it was somewhat of a struggle for Mick to get fully inside of him, however, with patience and determination, Mick's thick cock was in. Grimacing with each thrust, Jamie concentrated on his breathing while Mick slowly fucked him. It wasn't long before Mick was in all the way to the balls, thrusting deeply as Jamie tugged on his own dick to take his mind off the discomfort. When it was clear that Jamie had relaxed a little, I got the boys to shift around. With Jamie on his back and legs in the air, Mick stood at the edge of the bed and started to thrust back in. Jamie's ass was still ultra tight so once again, Mick had to take it slow but steady. As Jamie grabbed hold of his own dick and jerked himself off, Mick gave Jamie a bit of a breather as he held Jamie's legs apart. Even though Mick was being as careful as possible as he fucked Jamie, it was all too clear that Jamie was experiencing some pain. As he slowly thrust in and out, Mick admitted that Jamie's ass was still extremely tight.

Surprisingly, it wasn't long before Jamie indicated that he was about to cum. A few moments later and Jamie shot cum all over his stomach, hip and even his thigh. As for Mick, he was almost ready as well so he pulled out, tore off the condom and climbed up onto the bed beside Jamie. One.. two.. three tugs and Mick dripped cum onto Jamie's stomach and side.