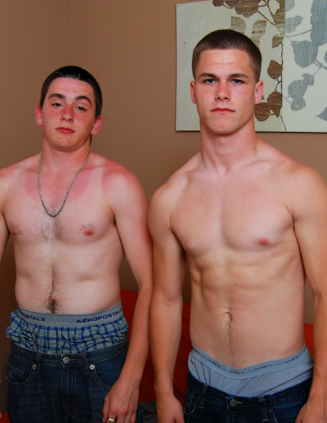 Boston is the new boy on the Broke Straight Boys futon today and he is actually a friend of another BSB model. Joining Boston is the much loved Jimmy. Not surprisingly, both boys are completely broke, thus, more than willing to engage in some man on man loving in front of a camera. What is surprising though, as Jimmy, Boston and myself talked, Boston admitted to having fooled around with another guy and 'experimenting' when he was younger. Both boys were getting along well and I knew that I was going to have an extra hot scene on my hands.

Jimmy and Boston stripped down to their boxers while Jimmy complained that he never got the opportunity to do a slow and sensual strip tease for all his fans while Boston just laughed. Boston showed off a pale body that had seen a little sun as he had the sun burnt outline of a wife beater on his shoulders. What was more appealing though was the lush, dark treasure trail descending down to hide underneath his underwear. As the boys trash talked with each other, they played with their dicks in order to get hard. Like always, Jimmy's cock sprung to full attention in mere moments, Boston not far behind him.

With Boston semi hard, it was time to get the show on the road and the boys threw their underwear to the side. I told Boston to go first and without any hesitation, he swooped down on Jimmy's thick cock. Right away, it was obvious that this was not Boston's first time with a dick in his mouth as he bobbed up and down. Only one or two minutes into the blow job and Jimmy was giving Boston's efforts a hearty thumbs up. Boston had Jimmy gasping in pleasure as he worked hard on the long dick. However, a slight nick on the dick from Boston's teeth had Jimmy flinching away. I got Jimmy to stand up while Boston got down on his knees in front of him. As Jimmy pushed Boston down lower, he got all dominate, telling Boston to just open up wide and thrusting in and out of Boston's mouth.

While Boston had experience in the cock sucking department, he still gagged a little each time Jimmy brushed the back of his throat with the head of his dick. Still, Boston went right back to work each time, content to let Jimmy face fuck him at a steady pace. A few moments later, when Jimmy's dick slipped out of his mouth, Boston took back some control, sliding the long shaft in and out of his mouth at his own leisure. I told Boston to go all the way down, Boston deep throating Jimmy three times in quick succession. Mixing it up, Jimmy lay down on the futon, Boston immediately going back down on his favourite treat. By this time, both Jimmy and Boston were breathing heavily and sweating from all their hard work. Boston was getting into the blow job, moaning every now and again as he got reacquainted with the taste of another guys cock.

I told Boston to lick the cock, Boston instantly licking a long stripe all the way from Jimmy's balls to the head of his cock. Reaching down for his dick, Boston started jerking himself off as he got more turned on by having a dick in his mouth even as Jimmy grabbed hold of Boston's hair, controlling Boston's speed. I could see Boston was starting to get tired so I said he could jerk Jimmy off for a little bit but Boston was having none of that, instead, he gave Jimmy's cock two pumps before swallowing it down again. I had to admit it; Boston had initiative. Standing up again, Jimmy was getting close to climaxing as Boston, on his knees once more, lavished his cock with attention. Giving another thumbs up, it was obvious that Jimmy was pretty impressed with the skills that Boston was displaying. Seeing as Boston loved cock so much, I told him I would give him an extra $50 if he let Jimmy cum on his tongue, however, he immediately countered with $100 but was happy to accept $80. Sticking his tongue out, Boston waited patiently as Jimmy jerked himself off.

A dollop of lube and Jimmy was wanking off furiously as he got closer to cumming. Second later, Jimmy came, cum spilling over onto Boston's tongue before dripping onto the floor. Both boys did a great job, especially Boston for his first time in front of a camera and considering how much he loves cock, I'm sure he will be back soon!