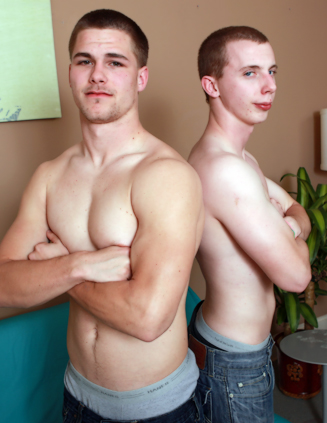 Both Jimmy and Brett are unemployed again and this time, they both know they need to do something extra in order to earn some dosh, thus, Brett is going to be taking Jimmy's fat cock up his ass. Brett has been fucked once before and even though he says the experience wasn't too horrible, Brett isn't sure if he is nervous, excited or just a little of both. As for Jimmy, he maintains that it's going to cost 10 grand for him to take a dick. I got Jimmy to stand up, turn around, drop his pants and give his priceless ass a couple of slaps for the benefit of the Broke Straight Boys members. Telling Jimmy to stay as he was, I asked Brett to do the same as Jimmy, both boys giving their butt cheeks a few hard slaps.

The boys stripped down to boxers, rubbing their cocks through the cotton material as they watched the straight porn and worked on getting hard. Pulling his dick through the front opening, Jimmy had his dick hard in mere moments while Brett wasn't far behind him. Stepping out of their boxers, Brett and Jimmy continued to jerk off until I suggested that Brett suck Jimmy off. Grinning nervously, Brett knelt down while Jimmy rested a foot on the futon. With some hesitation, Brett leaned forward and started sucking the head of Jimmy's dick. As Brett bobbed back and forth on the thick dick, Jimmy started breathing heavily in a clear indication that Brett had gained some oral skills in his last session at BSB. Placing his hands on the top of Brett's head, Jimmy was panting all the harder even as Brett fisted his own dick. Getting used to the taste of a cock in his mouth, Brett experimented a little on how to move his head and lathe his tongue on the underside of the cock shaft.

All too soon, it was obvious that Jimmy was pretty close to cumming so I asked them if they were ready to get down to the fucking, with Jimmy instantly saying yes. With both boys prepped and ready, Jimmy sat down on the futon, legs spread as Brett slowly sat down on Jimmy's thick cock. It was a hard and somewhat daring position to start in, especially for someone who had only been fucked once before. Still, as Jimmy's cock slid all the way up into Brett's straight boy ass, Brett started riding the dick like a pro, Jimmy even giving the thumbs up. One hand braced on the back of the futon, steadied by Jimmy, Brett held his dick and balls in his other hand so that there was a clear view as he rose up and down on Jimmy's lap.

When asked, Brett admitted that it kinda hurt, although, that didn't stop him from fucking himself with Jimmy's cock. A few minutes later, Brett looked like his knees were about to give out so I suggested he lay down. The boys scrambled into position; Brett laying down on the futon, legs spread wide and his ass hanging off the edge while Jimmy stood up and rammed his cock home. In this new position, Jimmy was able to set a hard and fast pace while Brett just lay back and took it. As he started panting hard, Jimmy was fucking Brett without mercy, all the while, Brett held his dick and balls in hand so that Jimmy's dick could be seen pistoning in and out of his tight ass. Jimmy was certainly proving his worth as a dominant top and that he had plenty of stamina to spare while Brett was more than able to take a hard fucking.

All of a sudden, Jimmy pulled out, tore off the condom and started jerking off over Brett. Using his usual two handed wanking method, Jimmy splattered cum all over Brett's upper chest and stomach. While Brett was too exhausted by his hard fucking to give a cum shot, both boys did a great job and I'm sure they will be back in the future. Who knows, maybe Brett can return the favour to Jimmy?