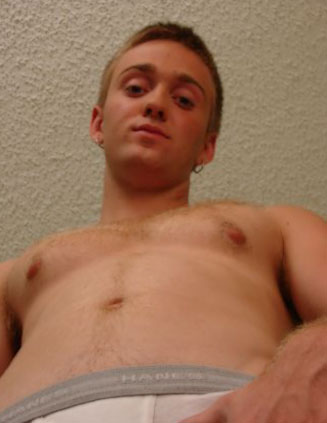 LA came in because his current girlfriend is kind of expensive and makes him go through money like it is anything. He heard about us on the internet and wanted to give it a shoot. LA is almost 19, and he is from Atlanta and is visiting in Florida. He is going to do a solo interview shoot for us, so that we can see what he looks like. Then, from there if all goes well then we will see about getting him in with some of our female models. He loves eating pussy, and having his dick sucked. However, for now she doesn't know that he was in her doing this.

LA stood up and took off his shirt revealing his nice, smooth, tone chest underneath. Going for the shorts, LA had very nice legs. You can tell that he works out to keep his shape, and like to be an active guy. He looks great in the boxer-briefs that he has on, and they show his package as he is a little excited. As the briefs hit the floor and LA stands back up, his boner continues to get bigger. He took a sit on the couch and slapped some on his dick he began to stroke it.

Jerking off, LA was working on getting rock hard and his mouth stays partially open. Sticking his tongue in and out and breathing nice and load for me. He keeps putting more lube on his cock to stroke it even more, while he thinks of his girlfriend sucking his dick. Now, his cock is pretty hot and him just laying there I couldn't pass up the opportunity to touch his dick. I gave him and extra $50 to let me grab a hold and he said I could just once. With is cock in my hand it felt rock hard, and was huge. He didn't seem to mind while my hand was on it, and grabbing his balls it helped to top the whole thing off.

Now, when it came to the cum shot for LA he was suppose to give me a warning before he shot his load. However, that never happened so I wasn't really zoomed in for the shoot. Still the load can be seen shooting on his lower stomach and all over his hand. It was a great sized load for only one night's worth of cum saved up. I will have to see what he is like when we try and hook him up with a girl. LA has a nice body, and I think he would do great in a duo shoot as well. Keep watching for me to get him back here from Atlanta.