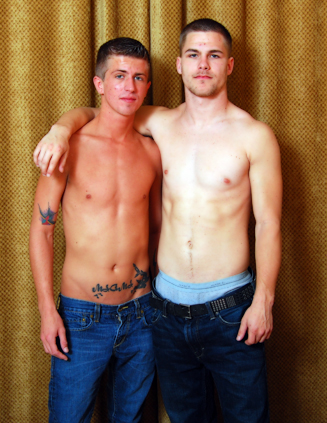 Two favorites are between the sheets today; Tony and Jimmy. Amazingly, both are completely broke, thus, they called me up and asked if there was any work going and of course, I invited them to come in right away. As both Tony and Jimmy had been here before and knew what to do, I got them to get started right away. The boys stripped off their t-shirts and jeans, their undies quickly being thrown on the floor.

I told them that there was some straight porn to help them get started, Jimmy and Tony discussing what porn they liked as they jerked off. Once Jimmy was rock hard, something that never took long, for a bit of fun, I got him to wrap a one dollar bill around his cock shaft. Jimmy was able to get his dick to twitch a few times, making George Washington dance. As Tony was working on getting hard, I got him to lean over and start sucking on Jimmy's cock while the dollar bill was still wrapped around the base of Jimmy's shaft. A minute later, Tony wrapped the dollar bill and went to work, his head bobbing up and down over Jimmy's dick. Even though Tony was concentrating just on the head of the cock, Jimmy was breathing hard in pleasure even as he pushed down on the back of Tony's head. Tony was doing a pretty good job for a straight boy, Jimmy admitting that he actually wasn't bad.

Wanting to mix things up a little, I asked Jimmy if he knew how to do push ups and told the boys what I wanted them to do. Tony and Jimmy looked at me and grinned as they moved into position. Tony lay stretched out on the bed while Jimmy lined up his cock with Tony's mouth and started doing push ups over him. I got Jimmy to count out each push up... 1.. 2.. 3.. his cock diving into Tony's mouth on each dip. He got to eleven before I told him to try it one handed and even though he said it might be tricky, Jimmy was willing to give it a go. Right away, it was obvious that it was a hard position on Jimmy but his balls kept slapping Tony on the chin as his cock disappeared down Tony's throat. After only 5 one handed push ups, Jimmy went back to using both hands, quipping that it was better than going to the gym. Jimmy showed amazing strength that he was able to do another twenty two push ups as Tony sucked on his cock, likewise Tony showed off his great oral skills as Jimmy's dick kept sliding down his throat.

After a few minutes recovery time, the boys got themselves prepared for the main event. Jimmy lay out on the bed, holding his dick straight as Tony straddled his hips and slowly impaled himself on the thick cock. Tony held onto the head board in a tight grasp as he rose up and down on Jimmy's dick. As Tony rode him harder and faster, Jimmy reached up and gripped Tony's hips, helping to take some of the strain off Tony's legs. By this time, both boys were panting hard, Tony grinning widely as I asked him how it felt. Jimmy commented that his legs probably were hurting worse than Tony's as he continued to thrust up hard into the tight ass. Working up a sweat, Tony's legs were ready to give out so I told them to swap into doggy style. Tony quickly scrambled onto his hands and knees, Jimmy standing behind him and thrusting straight into the straight boy's ass. When I told Jimmy to stick a finger in Tony's mouth, Tony wanted more money so I had no option but to throw everything I had at them both, showering the two boys in hard cash.

Hooking a finger in Tony's mouth, Jimmy pounded in and out of the well rounded ass in hard thrusts. As I moved around behind them with the camera, Tony reached around behind him and spread his ass cheek so I could get a better view of Jimmy's cock sliding into his ass hole. It was clear that both Tony and Jimmy were close to cumming, with Jimmy pulling Tony towards him every now and again. Grabbing hold of his dick, Tony started wanking off at a furious pace even as Jimmy kept fucking him hard. Moments later, Tony sprayed cum all over the dollar bills strewn over the bed and the red sheets. Now it was time for Jimmy to give a money shot. As Tony lay down on his stomach, Jimmy placed a dollar bill on each of Tony's ass cheeks and one in between. Climbing onto the bed and standing over Tony, Jimmy jerked off in his usual two handed method, shooting cum onto the bills balanced on Tony's ass.