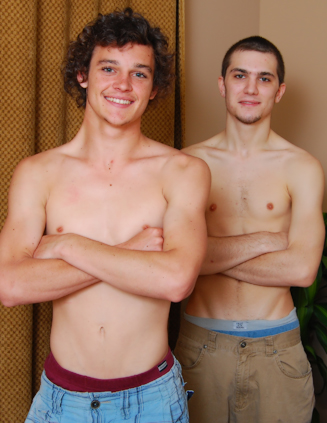 Rocco and Bobby are in the studio today and like all the boys who appear on Broke Straight Boys, they are desperate for some quick cash. Both Bobby and Rocco have bills that are piling up and of course, rent. Bobby and Rocco were impatient to get on with the shoot so I told them to strip off and get themselves started. Standing up, the boys quickly shed their clothes and climbed back onto the bed naked, both playing with their cocks as they watched some straight porn. It wasn't long before their cocks were standing to attention and they were ready for action.

As they wanked off, I brought the fact that Bobby kissed in his previous scene and that I wanted to see it again. Although Rocco was shaking his head, I said that I would pay them another $100 in addition to the $300 they were already getting for oral. Rocco was all for the money but wanted to know how long they had to kiss for. After a bit of to and fro, the boys decided that 10 seconds was ok for $100. I gave Rocco two $100 notes, one of which he handed to Bobby before he leaned in towards Bobby and locked lips with him. They kissed for the whole ten seconds, even putting a little tongue into it. Once they pulled apart, Rocco dived down and started sucking on Bobby's rock hard dick, all the while, stroking his own cock. As Rocco came up for some much needed air, I told him to spit on Bobby's cock, which he promptly did before jerking him off. Upon being asked, Bobby admitted that Rocco was gentler at giving head when compared with Darren.

I told Rocco to give some deep throating a go, Rocco slowly sliding the thick cock down his throat as far as he dared. As he tried to go down even further, he suddenly choked and had to pull off, spluttering a little as he did so and dribbling over Bobby's cock. Bobby, as he wiped himself down, asked if that was it for the day but I told him no as it hadn't been a very good blowjob. Rocco was a little offended but I asked them if they wanted to make some real money, then suggested Bobby fuck Rocco for $1000. However, Rocco wasn't impressed with that idea so I offered $1000 for Bobby to take it up the ass but he wasn't interested at all, even when I upped it to $2000. After some discussion, it was decided that Rocco was going to get fucked for the first time for $2250, with Bobby getting $1000 to do the fucking. With the price agreed upon, both boys got themselves prepared and ready to fuck.

Rocco got down on hands and knees on the bed, while Bobby stood behind him, slowly working his thick cock into Rocco's virgin ass. Right away, it was clear that Rocco was feeling more pain than pleasure as his body fought to adjust to having a dick deep inside of him even as Bobby gently thrust in and out. To his credit, Bobby was going easy on Rocco, letting Rocco get used to his dick before trying to go harder or faster. Rocco was moaning in discomfort, jerking himself off as he tried to relax enough to make it easier on himself. As Bobby pumped his hips, he said that Rocco's ass felt tight, which is something I could certainly believe since it was Rocco's first time.

Mixing things up, Rocco flipped over onto his back, legs spread wide as Bobby slid right back into his tight ass. This new position was much better for Rocco as Bobby was able to go faster, all the while, Rocco pumped his cock. Even though he was getting fucked, Rocco's dick was rock hard and it looked like he was going to be able to cum even with a dick up his ass. Sure enough, even as he moaned 'oh yeah!', Rocco's cum spurted over his chest and stomach before dribbling down his shaft. Bobby quickly pulled out, tore off the condom and jerked off over Rocco, splashing cum over Rocco's ass hole and the bed sheet. Both boys did a great job, especially Rocco for his first time taking dick. Look out for them in the updates!