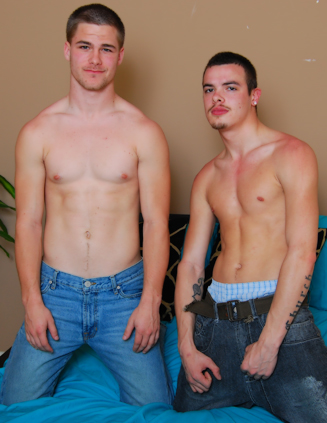 Broke Straight Boys is always happy to have Jimmy back in the studio, along with Jamie. I had Jimmy waiting on the bed for Jamie to show up and while we were waiting, I told Jimmy that Jamie was under the impression that he was here just for another dual jerk off scene, however, I wanted to see how far Jamie would go and for how much. After a bit of discussion, Jimmy was down for Jamie sucking his dick but was willing to see if Jamie was up for taking a dick. Once we were in agreement, I asked Jamie to come into the room. Sitting down next to Jimmy, Jamie was ready to get down into earning himself some extra cash.

Jamie quickly got naked before laying down on the bed and gently jerking on his cock while Jimmy, still clad in his grey boxers, rubbed at his dick through the soft material. As the boys chatted, I could see that they were getting along great and I knew that Jimmy was going to be able to encourage Jamie to push his boundaries. Throwing his undies on the floor, Jimmy slyly told Jamie that he could earn more money by sucking dick or taking one for the team but even with the mention of extra money, Jamie wasn't too sure about it all so they kept jerking off. A moment later, Jamie said he would consider a blowjob but wasn't up for taking a dick, Jimmy telling him that sucking his dick would be a privilege. Jimmy was already hard as a rock, obviously turned on by the thought of a hot, wet mouth around his cock.

A dollop of lube on his dick, Jamie was putting in some hard wrist action when he leaned over and grabbed hold of Jimmy's dick. With a firm grip around the hard shaft, Jamie tentatively began his first blow job. Right away, Jamie had a good rhythm going; pumping the shaft while twisting his hand even as he sucked on the head of Jimmy's cock. He was doing so well, Jimmy asked if it really was his first time sucking cock. Jimmy was enjoying the blowjob, jumping and gasping when Jamie managed to hit a sensitive spot around the tip of his cock. I told Jamie to try it without using his hands, and rising to the challenge, Jamie was handling the thick cock with ease. As his head bobbed up and down, Jamie reached for his own dick and started jerking off.

Switching it up, Jimmy stood up on the bed while Jamie knelt in front of him. Jamie went right back to work as Jimmy leaned against the wall, Jamie putting in some hard wrist action as he got used to the taste of a cock in his mouth. All of a sudden, Jimmy yelped out about Jamie using his teeth so I told Jamie to just jerk him off for a bit. As he was tugging on Jimmy's cock at a furious pace, Jamie couldn't believe that he had just given his first blowjob. After a few minutes, Jamie went back down on Jimmy, sliding the hard dick between his straight boy lips. As Jamie bobbed up and down, Jimmy commented that Jamie was the best and it couldn't be his first time blowing another guy. Giving his jaw a rest for a few moments, Jamie went back to fisting Jimmy's dick, Jimmy once again complaining about the kung-fu grip Jamie had.

To shut him up again, Jamie swallowed the hard cock, experimenting a little by twisting his head one way and then the other even as Jimmy moaned in pleasure. When it looked like Jamie was getting tired again, I told them to sit down on the bed. Jamie asked if he could just jerk off so I them both to get close to cumming then for Jimmy to cum while Jamie was jerking him off. Restarting the porn, the boys lubed up and with cocks in hand, they settled down to business. With his unique double handed approach to wanking, it didn't take long for Jimmy to get close, telling Jamie to take over for him. Jamie had each hand wrapped around a cock shaft and was tugging on them in a hard and fast motion. Moments later, Jimmy announced he was ready to cum and sure enough, cum dribbled down his shaft and pooled in his pubes, all the while, his cock jerked and twitched as if ready for more. Jamie was still only half hard, having been distracted by Jimmy's constant chatter but with a drizzle of lube, he vigorously worked on his dick. Surprisingly, despite Jimmy's distraction, it didn't take long for Jamie to work up a sweat, get rock hard and ready to climax, cum spurting onto his abdomen and into his pubes.