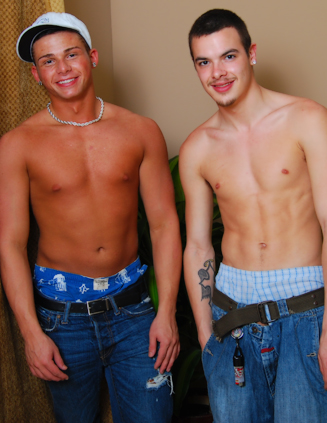 Brody called me up a few days ago and told me he needed to make some money to put towards a new car so I told him to come into the studio but said that he would have to do more than a jerk off scene. I got Jamie to come in as well as I knew he would get along with Brody and together, they would make a great video. After a bit of chatting, I told the boys to slip out of their clothes but as Brody was still not comfortable stripping off in front of another guy, let alone two, I let the boys take their time.

First the t-shirts hit the floor, followed by shoes and socks and after some tough talk and name calling between Brody and Jamie, the boys stripped off their jeans and were sitting on the bed clad only in their boxers. As Jamie and Brody watched some straight porn, both boys pulled out their cocks and worked on getting hard. Jamie's boxers were thrown to one side as he lubed up his dick and started putting in some hard wrist action. Even though Brody needed the money, he was more than a little shy about jerking off next to Jamie while Jamie was already well on the way to getting rock hard. A few minutes later, Brody took off his boxers as well.

When Brody was half hard, almost fully hard, I told Jamie to give him a hand but Brody immediately objected, saying that he hadn't agreed to Jamie touching his dick. Jamie rolled his eyes even as I informed Brody that in order for Jamie to give Brody a blow job, Jamie would be touching his dick anyway. A few more protestations and Brody relented, Jamie reaching over and taking the cock in hand. Brody could only put up with Jamie jerking him off for barely a minute before he pulled away and said "that's enough!" However, despite all Brody's protests, his cock was rock hard so there was obviously some part of him that had enjoyed Jamie fisting his dick.

With both boys in control of their cocks and wanking off, they talked about eating ass and what a freak Brody's ex girlfriend was. After getting Brody to move a couple of inches closer to Jamie, I offered him $50 to give Jamie a handjob but Brody wasn't having any of it so, I said it was time for the blow job to start. Neither of them looked thrilled at the idea but Jamie grasped Brody's cock in his hand, leaned over and slid the hard shaft into his hot, wet mouth. Jamie's head bobbed up and down over Brody's dick, all the while, Brody looked everywhere else but at what Jamie was doing. As Jamie lavished Brody's cock with attention, I suggested Brody put his hand on the back of Jamie's head and even though he wasn't keen on it, nonetheless, Brody gently pushed down on Jamie's head.

Brody demanded to know how long the blow job had to keep going for and I replied that it was a 25-30 minute video but neither Jamie or Brody were impressed with that so Jamie sat back up, both boys jacking themselves off. Even though Brody claimed the blow job wasn't really doing it for him, there was no denying how hard his cock was. Letting them jack off for a few minutes, I got Brody to stand up on the bed and lean against the wall while Jamie got up on his knees and swallow down Brody's rock hard cock again. It wasn't long until Jamie complained that his jaw was getting sore while Brody asked to take a break so once they were rested up, the boys went back to jerking off. As they were pulling on their cocks, I offered $200 to Brody if he sucked on Jamie's cock but he didn't go for it, even when I upped the offer to $300.

With Jamie wanking off at a furious pace, he didn't last too long, announcing that he was ready mere moments before cum splattered over his stomach, hand and dribbled into his pubes. Now, it was time for Brody to give his money shot. However, after cleaning himself up with a towel, Jamie grabbed Brody's cock and went back down on him in order to encourage him along. Brody said he wouldn't be able to cum from Jamie's blowjob so he jerked himself off, Jamie taking over for a few minutes and pumping his cock. Brody, on the cusp of cumming, took control of his dick, cum shooting into the air like a fountain and liberally covering Brody's upper body and stomach, even getting Brody in the eye!