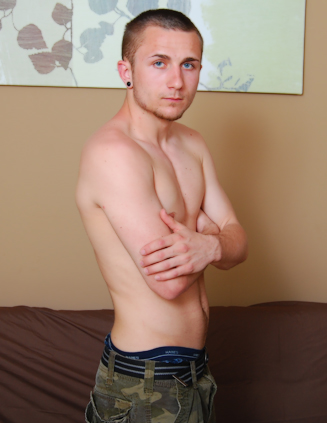 Jeremy, a dark haired and brown eyed young lad, is the latest Broke Boy to grace the futon today. Matt and myself met Jeremy at an apartment block where we told Jeremy that we were filming a documentary on how stolen goods leaves behind a trail. Matt posed as a buyer, talking with Jeremy about how he got into the stolen goods trade and what sort of things he sells the most, and while both he and Jeremy chatted, Matt invited him back to the studio to discuss matters further. Jeremy wasn't too keen to go with Matt until Matt pulled out $100.

Once back at the studio, Matt and Jeremy continued talking about why Jeremy was selling stolen goods when Matt worked the conversation around to if Jeremy would ever consider doing porn, such as jerking off in front of a camera for an extra $400. As Jeremy had previously said he was fairly broke, thus, the reason he was indulging in the hot items trade, Jeremy was pretty keen to earn some dosh that was legal. As Matt went over to put on some straight porn, Jeremy stood up and started stripping off. Jeremy revealed a compact but defined body with a healthy crop of black hair surrounding his cock and low hanging balls.

After turning around and flashing his ass to the camera, Jeremy sat down and started playing with his cock, somewhat nervous about how his day had taken a turn for the unusual. As he watched the porn, Jeremy concentrated on his own fantasies, stroking his dick into a hard on. Despite being nervous, it didn't take long for him to get rock hard. Jeremy is what you would call 'a quiet achiever' because after only a few minutes of gently pumping his cock, without a sound from Jeremy, cum dribbled down his shaft and over his hand. It was obvious that being filmed turned Jeremy on more than he was going to admit to as he continued to fist his shaft, rubbing the thick cum into the soft skin and wiping his fingers on his lightly haired thigh.

"I think I'm done?" said Jeremy, wiping off his cock with his shirt. Matt wandered over and sat next to him, Jeremy's hard earned cash in hand even as Jeremy pulled on his boxers and shorts. Matt talked about Jeremy going further and earning $1000 for sucking dick but Jeremy said he wasn't gay but Matt countered with that you didn't have to be gay, just motivated. While Jeremy wasn't sure about sucking another guy's dick, the mention of a whole grand certainly had him entertaining the idea. Counting out his five $100 bills, Jeremy had a grin on his face that promised he would be back for more in the future. Make sure you watch out for the Quiet Achiever in the updates!