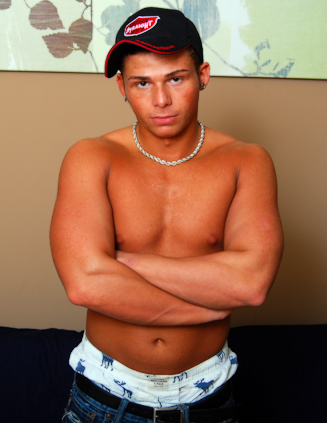 Broke Straight Boys is pleased to introduce the latest broke boy; Brody. From the moment 20 year old Brody sat down, he was very chatty and had no hesitation discussing that he liked lesbian porn and loved getting down with the ladies. As he teaches group exercise at a gym a few times a week, he is fairly broke, hence being at BSB. Due to being on a low wage, he still lives with his Mom and as of yet, also uses her car as he doesn't have one of his own. As we talked, I told Brody that he could make a lot more money doing gay porn than he would doing straight, however, Brody stated he was straight but thanked me for the offer.

It was time for Brody to show everyone what he had so he stood up and stripped down naked, somewhat shyly, he said he wasn't used to getting naked in front of strange men. As he threw his clothes to the side, Brody revealed a smooth, athletic body that was tanned all over. Despite having more than a passing resemblence to the cast of Jersey Shore, Brody denied even watching reality tv but did confess that he was an aspiring rapper and hoped to one day record an album. Even though Brody laughed when I asked him to do a little rap on camera, he ended up reeling off some of his lyrics.

Eventually, Brody and I got back on track about why he was here and I told him to get his cock hard. Brody was taken aback when he realised that I would be staying in the room but I told him to ignore me and the camera and just watch the straight porn that was playing. As he started playing with his cock, I saw that his earrings were in the shape of a dollar sign so I took the camera in for a closer look but it was really just a good excuse to pan all the way down Brody's smooth, tanned body. Despite his misgivings about a strange man in the room as he wanked off, it didn't take Brody long to get rock hard. However, even as he gently tugged on his hard cock, it was obvious that Brody was quite nervous and he admitted as much.

Still, Brody couldn't help but grin when I told him to act as he did when a girl was sucking his cock. As Brody was quite tense, I suggested he stand up in the hope he might relax a bit. Standing up seemed to be making a difference with Brody as he was now moaning in pleasure as his hand flew back and forth over his hard shaft. It was clear he was getting close to orgasm as his toes were curling in the carpet so he sat back down. Slouching on the futon, Brody wanked off furiously as he got closer to cumming when suddenly, he announced he was about to cum. Mere moments later, cum shot high into the air before splashing down over Brody's stomach, arm and even his balls.

Brody did a great job for his first time wanking off in front of a camera and I'm sure he will be back very soon so make sure you watch out for him in the updates!