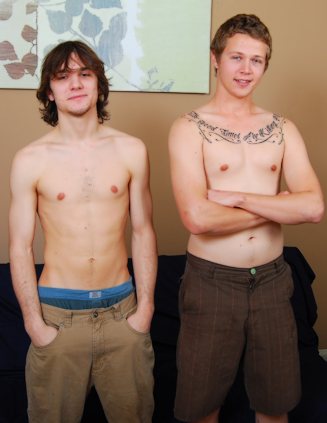 Today, Broke Straight Boys is happy to welcome back both Rocco and Zach. They are back in the studio as they are still broke, thus, they are here to do something a little different; Rocco was going to use a dildo on Zach. I asked Zach if he had ever had someone play with his ass and Zach readily admitted that a girlfriend had slid a finger all the way into his ass and that he quite liked the feel of it. Rocco then said he had used a dildo on a girl before so knew how to use it. Both boys were nervous about what they were going to be doing but were ready to give it a go.

Standing up, they quickly stripped off naked before sitting back down and playing with their dicks to get them hard. As they watched the straight porn, it didn't take them long to get rock hard cocks. Without preamble, Zach leaned right over and went down on Rocco even as he slowly stroked his own dick. Zach experimented with how to suck dick, making Rocco moan in pleasure. Turning his head one way and then the other, Zach put his newly learned tricks to use as Rocco pushed down on the back of his head to ensure Zach went deep. A moment later, Rocco stood up, Zach kneeling on the floor in front of him and immediately swallowing down the hard cock again. Rocco was panting heavily as Zach treated his cock like his favourite candy. Sucking on just the head of Rocco's dick, Zach slid a tight hand up and down the hard shaft, making Rocco moan for more.

Finally, Zach was ready for Rocco to take control of his ass so he hopped up on the futon and got down on his elbows and knees, Rocco kneeling behind him with the lube at hand. Rocco poured some lube down Zach's ass crack and then put a dollop on the dildo head before using the tip of the dildo to massage it into Zach's ass hole. In a slow but steady pace, Rocco gently pushed the dildo into Zach's virgin ass even as Zach closed his eyes and breathed deeply. Rocco twisted the dildo from side to side in slow rotations, allowing Zach to adjust to it. As Rocco fucked his ass, Zach reached around and spread his ass cheek so that the BSB members could see the dildo sliding in and out of his ass.

I got Rocco to take the dildo completely out and Zach to spread both cheeks and asked him if he thought he could take a real dick up his ass. Zach wasn't too sure about that, however, he said he would give it a try. His dick still hard, Rocco said he was up for it for an extra $100 while Zach wanted $200. With the condom on and all lubed up, Rocco sat down on the futon and held his dick steady as Zach, in a very bold move, slowly sat down on Rocco's cock. With one hand steadying him on the futon, Zach rose up and down on the hard cock deep inside of him, all the while, jerking himself off. It was a difficult position, especially for first timers and Rocco's cock slipped out a couple of times but they went straight back into it each time. It was clear that Zach was getting tired in this position so Zach held himself still while Rocco thrust up and started fucking him from beneath, causing Zach to pant heavily from the new sensations.

Soon enough, Rocco started thrusting up faster and faster as it was clear that he was getting close to cumming, completely turned on by the feel of Zach's tight ass around his cock. Surprisingly, it was Zach who came first, cum spilling over onto his stomach and pubes as he furiously jerked himself off. Out of breathe, Zach sat down next to Rocco as Rocco rolled off the condom and started wanking off in an effort to cum. As he put in some hard wrist action, Rocco stood up and turned towards Zach who had gotten down on his knees. One... two... three pumps later and Rocco splashed cum all over Zach's chest and down his stomach. Both boys did really well and as they are interested in making more dosh in the future, look out for them in the coming weeks.