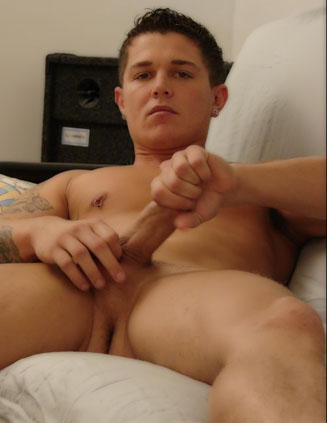 Phoenix is back again for another shoot and it has been a very long time since I last talked or seen him. He had been traveling around for work, and trying to make as much money as he could get his hands on to pay the bills. He was tired of doing shoots with guys, because he isn't gay and doesn't want to do that any more. I explained to him that we had some work with girls lined up for him, but of course he disappeared and I had no way of getting a hold of him. I hope that he will stay with us for a while and we can get several shoots with this hunk.

This was just going to be a solo shoot, and Phoenix understood that he was just going to be jerking off. I had him start with the clothes so we could get the shoot underway. Pealing off the shirt, there were so many things that grabbed my attention right away. His smooth, tone, tattooed, and pierced nipples kept my eyes on him. I could see that he has continued to stay in great shape while he has been gone, and has managed to stay in the sun. He informed me that he has no new tattoos, and that he has a girlfriend right now. When Phoenix took off the rest of his clothes it was just like old memories that came back. He grabbed the bottle of lube, I turned on the porn and he started to play with himself.

Phoenix jerked off sitting and it didn't take him long to start growing a boner watching the porn. He commented on how crappy it was, and I explained to him that I don't watch it, so it might need to be updated. Phoenix moved around a little for me and seemed to show off his body a little bit. In the last position he laid down on the couch and continued to jerk off pretty hard. He made sure to make great eye contact with the camera and was getting into the shoot. Biting his lip, and breathing out loud for all of us to hear. He made sure to inform me that he was going to cum, and then with that being said a short burst of cum flew out, then came the rest landing on this lower stomach. I was just excited to have Phoenix back and this time I hope to get him in as many shoots as I can before he disappears again. Keep watching what this bad boy will do next.