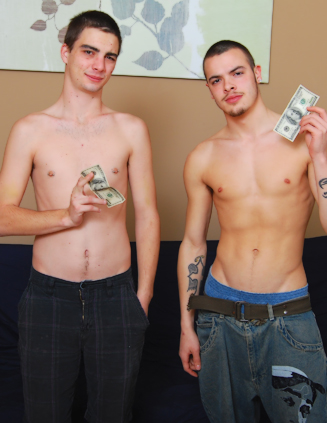 Today, at Broke Straight Boys, we welcome back Slink and Jamie. Jamie has been fortunate enough to find affordable housing and is looking to pay his rent while Slink needs dosh for bills. They are here today to do an oral scene and while they were tempted by the offer of $300 to suck cock, they both argued over how much they wanted and who was going to suck dick. Eventually, they agreed to the price and it looked like Jamie nominated Slink to do the cock sucking.Now that the details were hammered out, Slink and Jamie quickly stripped off their clothes and started playing with their dicks as they watched the straight porn. A dollop of lube each on their dicks and the boys were putting in some hard wrist action as they worked on getting stiff. As he jerked off, Jamie admitted that he had never sucked another guy's dick before, likewise, with Slink. It didn't take Slink and Jamie long to get rock hard and it was time for Slink to taste his first cock. Wiping off the lube with a handcloth, Jamie was somewhat amazed that his dick would be entering another guy's mouth in a matter of seconds for the very first time.

Grasping Jamie's dick, Slink leaned over and was just about to wrap his lips around the tip when both he and Jamie broke up laughing, half embarrassed and half disbelief. With the tentative moves of a cock sucking virgin, Slink slowly slid the hard shaft into his mouth only to immediately come back up for air as he grimaced about the taste. Unused to the feel of the dick in his mouth, Slink gently pumped the shaft as he experimented with how best to get the blow job going. Each time he bobbed back down onto the dick, he had it in his hot, wet mouth for a little longer, Jamie telling him to tighten his lips more if Slink wanted it be over quickly. Interestingly enough, even with all of Slink's hesitation, his cock was still rock hard. As Slink was having a bit of trouble getting co-ordinated, I told him to take his hand off the shaft and just slide his mouth up and down on the dick.

Slink, however, was daunted by the size of Jamie's cock so he swallowed what looked to be about 2 inches and bobbed up and down while cupping Jamie's balls. All the while, Jamie kept his gaze glued to the porn, however, Slink must have been doing well as Jamie's dick was pointing straight up. Jamie was starting to get into the blowjob, telling Slink to go deeper even as he gently thrust his hips up and down into Slink's mouth. In an experiment, Jamie pushed down on the back of Slink's head, forcing him to go deeper but Slink immediately pulled off as he choked, all the while, Slink jerked himself off. A few minutes later, Jamie lay a heavy hand on the back of Slink's neck and pushed, this time, Slink doing better by being able to ride it out for a few bobs before once again being made to pull off as he gagged. In the end, Slink fell back to the usual straight boy method of giving blow jobs; pumping the shaft while sucking on the head.

Jamie admitted he was trying to think of a girl as he watched Slink's head move up and down but said Slink was doing good, as evidenced by Jamie's solid dick. To switch it up a bit, Jamie stood up while Slink knelt down in front of him, immediately swallowing Jamie's dick again. In this position, Jamie was able to thrust more into Slink's mouth and while it caused Slink to gag a bit, Slink kept going with the blow job. It was obvious that Jamie was starting to get off on another guy sucking on his dick as he watched intently as his cock slide in and out of Slink's mouth. With his hands on Slink's shoulders, Jamie started thrusting harder while Slink concentrated on getting him off. In the end though, Slink's jaw was hurting too much for him to continue so the boys sat back down on the futon and jerked themselves off in a race to cum first. With barely a word of warning, Slink was the first one to climax, cum dribbling down his shaft and over his fingers. Surprisingly, with Jamie fisting himself furiously, Slink reached over and began playing with Jamie's balls in an indication that he more 'curious' than he has let on. Slink then leaned right over and, as Jamie came, licked at the cum spilling over the hard shaft and into Jamie's pubes. Look out for both these hotties in the updates!!