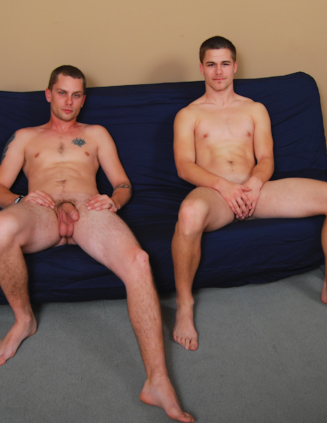 Matt and Jimmy are back in the studio today as they are both still in need of some quick cash. Both the boys and I were discussing what they would do with another guy for how much when I told them to stand up and get naked. Matt and Jimmy stripped right down, Jimmy pausing for a moment to turn on the straight porn, then the boys sat down on the futon and started working on getting their cocks hard. It didn't take long for Matt to get rock hard with Jimmy not far behind him. As they jerked off, I asked Jimmy if he had ever fucked a girls feet before and Jimmy admitted that he had played around like that previously but when pushed, he said he wasn't interested in Matt fucking his feet. Likewise, Matt wasn't too impressed with the idea either.

I told Matt to help Jimmy out and he did, reaching over and taking Jimmy's cock in his large hand and started slowly pumping up and down. While Jimmy didn't look happy another guy was touching his cock, he sat back and took it. Matt reached for the lube and put a dollop on his dick when I asked if he used his own spit as lube, both boys saying that they did every now and again. I then asked Matt if he would spit on Jimmy's dick for $20 each. They both put up a huge fuss about it but in the end, they agreed to do it for $25 each. With both boys grimacing, Matt bent down and spat on Jimmy's dick, rubbing the saliva into Jimmy's shaft. As the boys went back to stroking their own cocks, I told them that I would pay one of them $200 to suck dick and $100 to take it. The suggestion got them all riled up again, both Matt and Jimmy wanting more money to do it, ultimately, Matt was going to suck cock for $300 and Jimmy was going to take it for $200.

Jimmy stood up in order to get hard as it's what he prefers while Matt remained sitting, both boys working their cocks hard. Soon enough, Jimmy was hard enough for Matt to handle. Matt leaned in towards Jimmy and grasped his cock, and with eyes closed, got the taste of his first cock. Right away, Matt had a good rhythm going, his head bobbing back and forth as he gently pumped the shaft. He broke off, saying he 'couldn't believe he was doing this shit' but went right back to it. In order to keep hard, Jimmy couldn't even look at what Matt was doing, placing a hand in front of his face to shield himself from the view. I told Jimmy to treat Matt like a girl and put his hand on the back of Matt's head and fuck his mouth. Matt and Jimmy protested this idea; Matt afraid he would choke and Jimmy insisting that Matt would throw up on his dick.

Still, the boys were going to give it a try. As Jimmy didn't want to get lube in Matt's hair, he rested a forearm on Matt's head and pushed but a moment later, he thought better of it and rubbed his lube covered hands into Matt's hair, laughing as he did so. Scowling, Matt went back to sucking Jimmy's cock even as he wanked himself off. Despite Jimmy's protests, his cock was rock hard the whole time Matt was giving him a blow job so obviously, Matt wasn't doing too badly. Surprisingly, Matt was close to cumming and said he was going to try climaxing was he had a dick in his straight boy mouth. Pausing only to get some more lube, Matt furiously wanked himself off, dribbling cum onto the carpet even as he had Jimmy's dick in his mouth. Now it was up to Jimmy to provide the money shot. With a two handed approach, Jimmy jerked off at a fast pace. A few minutes later, he spurted cum all over Matt's upraised foot. Both boys did well and I'm sure they will be back in future updates.