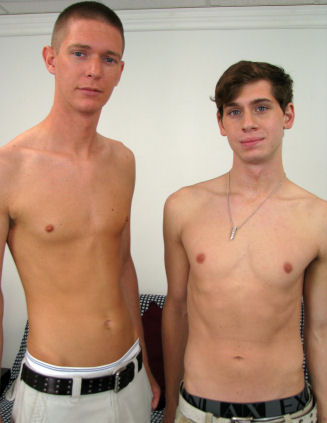 Derek is back in the studio along with Jayden. As we chatted to get warmed up, Derek revealed that he had a girlfriend of almost four years but she didn't know what he was doing to earn some extra money. While Derek is studying Oceanography, Jayden said he was hoping to get into a food and beverage management course. I asked if Derek was going to do anal as he had already done an oral scene with both Mikey and Jayden but he wasn't up for it, not even having fucked his own girlfriend in the ass. However, I did offer him $1000 to top Jayden but Derek decided that he was more comfortable with oral for $500.

With the price settled, Jayden helped Derek take off his top and as Jayden then took off his own t-shirt, I told them that if they kissed, I would give them an extra $100 each. Laughing a little, they accepted then leaned in towards each other and locked lips. Jayden pushed Derek back into the futon, kissing and licking his nipples even as he undid Derek's belt buckle. As Jayden kissed up and down Derek's smooth body, Derek admitted that his nipples were extra sensitive. Derek's shorts soon hit the floor, leaving Derek clad only in his tighty whities, Jayden dotting kisses along his pubic line, all the while, it was clear that Derek was getting more turned on by the minute.

Jayden and Derek kissed, putting some tongue into it as Jayden rubbed Derek's cock through the cotton undies before stripping Derek naked. Jayden, undoing his own belt, got a little dominant with Derek, slamming him back into the futon when Derek went to help. Giving him a quick snog, Jayden went down on Derek and went straight to work, making sure Derek was rock hard in only a matter of a minute or two. Every time Jayden broke off for a moment to lick a stripe up Derek's torso, Derek's eyes rolled in pleasure. Shucking off his shorts, Jayden, still in his undies, declared that Derek was 'hot' before immediately sliding the hard cock between his lips again. Deep throating the stiff dick, Jayden bobbed up and down even as Derek encouraged him to keep going deep via a heavy hand on the back of Jayden's head.

Now it was Derek to show Jayden just how much he had learned at the Broke Straight Boy's Cock Sucking Academy. With Jayden standing in front of him, Derek took hold of the waistband of Jayden's undies, kissing and licking Jayden's hip bones. As Derek pulled down the white underpants, it was easy to see that Jayden was already half hard from blowing Derek. With no hesitation from the straight boy, Derek slid the cock into his mouth and went to work, making Jayden gasp from the sensation of having a hot, wet mouth around his dick. Sliding the hardening dick in and out of his mouth, Derek proved that he had been paying attention to his previous BSB shoots. He quickly got tired as he wasn't used to having a cock in his mouth so Derek fisted Jayden's dick in hard, fast tugs as they both kissed before Jayden got down on his knees in front of Derek.

It was obvious that Jayden loved sucking cock and Derek loved watching Jayden lick up and down his shaft before bobbing up and down on his erect dick. Only a minute or two later, the boys mixed it up by moving into a 69, each boy with a mouthful of cock, Jayden thrusting into Derek's mouth even as Derek lavished attention on Jayden's dick. However, Jayden was too close to cumming to continue so he had Derek sit back against the wall so he could once again swoop down on his favourite candy; Derek's cock. Derek gently face fucked Jayden, holding his head in position by twisting his fingers through Jayden's longer hair. Jayden was close to cumming so Derek started to wank him off, kissing and licking Jayden along the hip and stomach before Jayden took control of his cock, jerking off until cum shot over his stomach and into his pubes.

Now it was up to Derek for the money shot. Standing up, he gave his cock a couple of good tugs before he shot over Jayden's chest and neck. I told Jayden to lick Derek's cock, Jayden eagerly complying which made Derek gasp and groan from the overwhelming sensations.