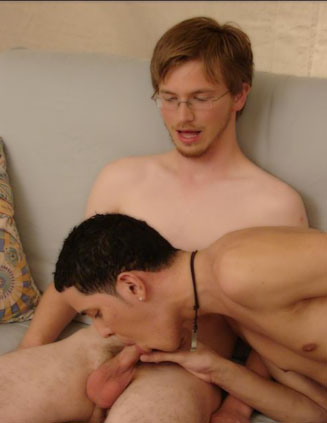 Jona is back again for another shoot and this time I have him sitting next to Billy. Now, Jona is 18, from Pennsylvania, and is actually Amish. His family doesn't have any money to give him, so he had to look at other places to come up with money to live on. Billy on the other hand is 19, never messed around with another guy before and defiantly not Amish. He tends to party a lot more than he should and in doing that he needs to come up with the money for rent. I explained that they were doing an interview and that I was going to pay them $200 a piece to jerk off next to one another without touching each other. Both guys were a little shocked that they had to jerk off next to one another, but they each agreed that they needed the money.

Starting with the shirts, both guys pealed them off and Jona was as white as a ghost while, Billy naturally had some color to his skin. Unbuttoning the pants and removing them the guys started to play with themselves. Jona was the first to take off his underwear and it didn't take long for him to get a raging hard on. I then offered for Billy to reach over and jerk off Jona. Of course, no body does anything without some incentive so I had to pay them both a little extra. Jona said that it felt every weird having a guy jerk him off, but at the same time it felt good.

It's dick sucking time! Time to see if I could get these guys to suck some cock, I offered Billy $550 to suck some dick. Billy went to town on his cock, and used his big lips against his cock. Jona was shocked when I told him to return the favor and didn't know what or how to do it. Placing Billy's cock in his mouth he sucked mostly on the tip, however soon after Billy tried to get more in his mouth. Up until this point Billy had a hard time getting hard, but Jona mouth seemed to take care of that problem. With a rock hard cock the shoot continued on a smooth path. Billy started to breathe a lot hard and that he came and some even when in Jona's mouth. Jona spit it out and then all the came was on his stomach. Then it was Billy's turn to return the favor and I had him reach back over and jerk him off. After a few minutes Jona started to pull away when he started to have his orgasm. He came and it went all over Billy's hand and he was discussed by how much cum shot every where. These two boys did a great shoot and I was excited to see the Amish boy do a little more exploring. I hope to have him come back some more and see what he will do next.