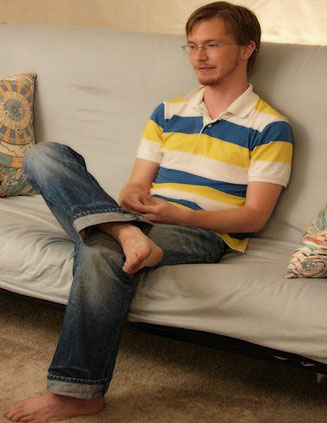 Jona is back for another shoot - although we are showing you his solo performance before his duo next week - and for being 18 I think that he was enjoying the whole modeling thing and not having to really work. In the last shoot I found out that Jona is Amish and I wanted to have him come back in for another shoot. He spent some of his last check on him and then sent the rest home to his family. However, in this shoot he isn't going to make as much money doing a solo but he was ok with that.

Starting with his shirt he unbuttoned it and pulled it off. He slid his hand down in his pants to start to play with himself to get hard before the pants hit the floor. While he sat there jerking off with his pants on I was trying to remember how big he was. Jonas took off his pants when I asked and when he got down to his underwear it brought back memories. Now, when he did get naked for us, he got hard pretty fast and I was impressed with how quickly it happened. There are some models that walk through my door that haven't experienced a lot sexually. I figured that I would give Jona a curve ball and I asked him if I could touch his dick. He did so well in the orgy scene that I put him in that I figured why not see if this time was any different. Jonas said that it was fine so I reached in and took a hold of his 7 inch cock. Jonas has a skinner dick, but with a pretty good size head on top.

Jona's inexperience has me thrilled for the fact that there are a lot of things that he has never tried before and so why not find out together what we can get him to try on camera. I asked Jonas if I could play with his ass a little bit and he was shocked with what I was asking. His biggest concern with the whole thing was if it was going to hurt. Honesty is my motto, to a point. I told him that a lot of times it feels good, and when I offered him another $100 he complied with my request. I grabbed the butt-beads for just the occasion sitting on the table behind me. He put a pillow in his ass, and I got the beads pressing against his tight little hole. As the first one went in Jonas took a huge gasp for air. I got up to the second one to go in and he was so tight I needed him to relax to continue. He told me that it felt weird and I told him to wait until I made it vibrate. Slowly, I worked the butt-beads in one at a time and then began to play. Pulling one out and then trying to put it right back in. With lots of deep breathing and moans, Jonas was starting to enjoy it.

Stroking his cock fast I know that with all the enjoyment Jona's was feeling now it wasn't going to be long for him to cum. He started to jack off a lot fast and that is when he the breathing got even loader. Moving the camera in for a closer look just as I did Jona shot a huge load up the middle of his chest and he was out of breath. I am sure that I will have our new little Amish boy back for another shoot in the future to see what he can do for some more money to send back to his family. Here at Broke Straight Boys we enjoy sharing new experiences the models go through with you, and stay tuned to see next week's update.