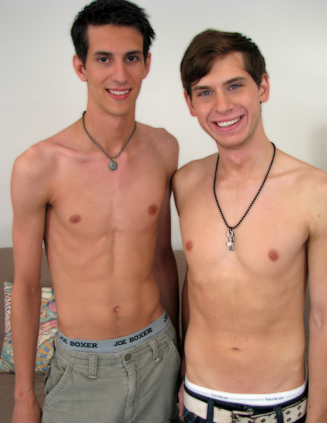 Broke Straight Boys is very pleased to welcome back Cousin Mikey as well as introduce a newbie; Jayden. Jayden is bisexual but has had limited experience with other guys while Mikey has been a fan favorite for quite a while. I decided to throw Jayden into the deep end and start him off with an oral scene with Mikey as I thought he could handle it. I asked the boys if they would kiss and both nodded enthusiastically so I knew that the BSB members were going to be in for a pretty hot scene!
The boys stood up and immediately started kissing each other. It was clear that Jayden and Mikey had great chemistry together as they were definitely enjoying the kissing. As they snogged, their tops came off, Jayden revealing a toned and taut upper body, before Mikey pulled down Jayden's pants and underwear. Pushing Jayden onto the futon, Mikey sat next to him and started putting in some hard wrist action even as they continued kissing. A few moments later and Mikey leaned down, sliding the hard cock into his mouth. Mikey set about showing Jayden just how much he had learned at the BSB school of cock sucking as Jayden relaxed into the blowjob. As he moaned for more, Jayden couldn't help but comment on how good Mikey was doing.

Jayden said that he wanted a turn so Mikey sat back, the boys kissing some more as Mikey undressed and revealed his huge, hard cock. Jayden was a bit taken aback at the size of Mikey's dick but he looked like he was excited by the challenge. Kissing all the way down Mikey's body, Jayden opened his mouth wide and licked the head of the rock hard dick before sliding it into his mouth. His head bobbing up and down, Jayden soon had Mikey moaning in pleasure. Breaking off from the blowjob, Jayden sucked Mikey's balls into his mouth and licked up and down the long shaft before swallowing the cock once more. Jayden quickly proved he was no virgin at cock sucking when he suddenly deep throated Mikey's long dick without any problems.

Opening up the futon, the boys lay on their sides in a 69, each boy having their cock sucked while enjoying the feel of a hard dick in their mouths. As they sucked and got sucked, it was clear that both Jayden and Mikey were getting more turned on by the minute. Mikey broke off from his blowjob to gently face fuck Jayden as he went almost all the way down on Mikey's dick. Jayden knelt up beside Mikey's face and slid his dick down Mikey's throat, moaning in pleasure as Mikey treated his cock like his favourite candy. It was payback time as Jayden fucked Mikey's mouth, thrusting in a steady rhythm. They shifted; Mikey still on his back while Jayden knelt over him, place feeding his dick to Mikey even as he swallowed down Mikey's hard cock again.

It was clear that Jayden and Mikey were pretty close to cumming but it was just a matter of who first. Mikey announced he was close but Jayden kept sucking and licking the hard cock in his mouth even as Mikey suddenly climaxed, shooting high into the air and hitting Jayden's shoulder before the cum landed in his pubes and on his stomach. However, even as Mikey was cumming, Jayden kept licking and sucking at Mikey's cock which is something rarely seen on BSB. Even though it was now Jayden's turn for the money shot, Jayden didn't really want to take that cock out of his mouth. Still, he sat back up and started jerking off in hard and furious strokes right over Mikey's face and it wasn't long before he panted that he was about to come. Seconds later, Jayden shot his load all over Mikey's face, hitting him in the mouth and on the chin.

I told the boys that I was going to get them together with a new boy in the next few days so watch out for it in the updates!