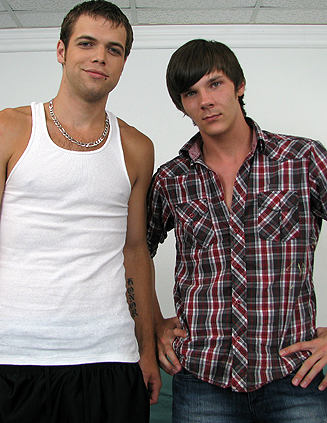 Back in the studio, we have Diesal and Eric who are here for a special occasion; Diesal is going to pop Eric's cherry. Although Eric is justifiably nervous about the size of Diesal's cock, especially since this is going to be his first time doing anal, he is willing to give it a go for the price of $600. Diesal and Eric stood up and as they were stripping off, Eric revealed that he was actually in one or two episodes of 'The Real World' while Diesal was booked to appear at 12 Broke Straight Boys events in the upcoming months, however, by the time this particular video appears on the site, there is a good chance that the events will have already occurred. The boys sat back down, still clad in their matching black undies, playing with their cocks as they watched some bi porn. A moment later and their underwear hit the floor.

Although Eric volunteered to suck dick first, it was a better idea for Diesal to start off. Eric was overcome with shyness as Diesal leaned over and took Eric's cock in his mouth and it was obvious that Eric had a huge crush on him. Like the last time, Eric kept trying to cup his balls around Diesal's hand which led to Diesal grabbing hold of Eric's hand, moving it away and pinning it down onto the futon. Still, it was clear that Diesal was doing a great job as his head bobbed up and down over Eric's cock as Eric was getting pretty hard. After a few minutes, they swapped; Diesal sitting back and Eric leaning over and swallowing down Diesal's long dick. Diesal got dominant with Eric, face fucking him as he pushed Eric's head down. Eric showed that he had quite a bit of experience in sucking cock as he had no trouble deep throating Gigantor repeatedly, making Diesal moan for more.

Soon enough, it was time to get down to the fucking. Eric stood up and leaned against the studio wall as Diesal stood behind him, lubing up and putting on the condom. Slowly, Diesal slid into Eric's virgin ass, causing Eric to gasp in discomfort as Diesal started to thrust in and out. It was a difficult position to start out in and Eric soon had to lean forward to make it more comfortable. As Diesal took it easy, allowing Eric time to get used to the feel of a cock in his ass, however, Eric had to tell Diesal to stop for a moment as it was all too much. Giving Eric a quick break, the boys opened up the futon so that Eric could get into a better position. Down on his hands and knees, with Diesal kneeling behind him, Eric groaned as Diesal thrust back into his ass.

Even though Diesal was able to fuck Eric in longer, deeper thrusts, Eric had to tell Diesal to stop for a moment every now and again. One particularly hard thrust had Eric yelping and saying 'ouch!' but Diesal was being as gentle as he could which was no easy feat with a cock as big as his. They switched to Eric laying on his side, Diesal spooning him from behind. Breathing heavily, Eric winced as Diesal slid back in. This new position allowed Diesal to set a harder pace, fucking Eric deeper. Grunting on every thrust into his ass, Eric was proving that he was able to take Diesal's cock like a man even if it was causing him some pain.

In an effort to make it a bit easier on Eric, the boys shifted so that Eric was laying on his back, legs up in the air as Diesal knelt in between them. Diesal, holding Eric's legs apart, set a steady pace. Eric groaned each time Diesal drove into him even as he fisted his own cock. Despite his discomfort, it was clear that Eric was pretty close to cumming with Diesal still fucking him and sure enough, after a few minutes of Diesal slowly and gently rocking back and forth, Eric climaxed, cum shooting over his chest. Diesal wasn't far behind him, tearing off the condom and jerking off over Eric, splattering cum over Eric's pubes, stomach and chest.

Both boys were tired after such a strenuous workout, Eric admitting that his first time getting fucked had been rough. Still, I told Eric that he would get $700 for his performance while Diesal would also take home $700. Watch out in the updates for more on these two boys!