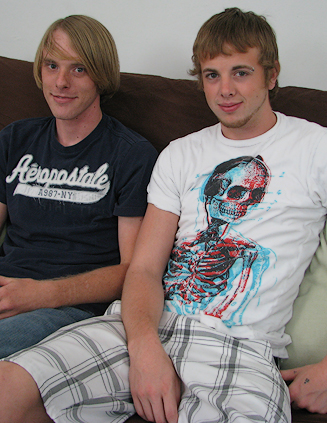 In the studio today, we have Mike R and Corey. They are here to do an anal scene which means Corey is going to get a taste of Mike's big dick. Mike is back on the futon to earn some money to pay for car repairs while Corey's flatmates stole the money he put aside for rent so he needs to make some more... fast! Both boys were happy with the usual amount offered to do an anal scene; Corey would get $1500 while Mike gets $1000 for topping. However, I did say to Mike that if he did some exceptional fucking, he would get a bonus. Mike and Corey quickly stripped off to their underwear before sitting back down on the futon and playing with their dicks as they watched the porn. As always, it took Mike mere minutes of stroking before he was rock hard while Corey looked like he wasn't far behind.
Each boy took off his undies and threw them to the side, Corey leaning over and sucking down Mike's long dick. Mike was amazed when Corey instantly started deep throating him and couldn't help but watch with a smile on his face. It was obvious that Corey was a spectacular cock sucker as he had Mike announce that Corey was the best at blowjobs he had had so far. As Corey ran his tongue stud along the underside of the head of Mike's dick, Mike had to stop Corey as he was getting too close to cumming. Mike asked Corey if he wanted him to suck his cock before fucking him, Corey replying with a hearty 'yes!'. Sitting back into the futon, Corey wiped his mouth as Mike swallowed down his already hard cock. Mike showed Corey that he had some pretty impressive oral skills of his own as he made Corey moan for more. His head bobbing up and down, Mike had Corey rolling his eyes in ecstasy. All too soon, it was time to get down to the fucking. Both boys got lubed up, Mike rolling on a condom as Corey knelt on the futon and leaned up against the back of it.

Sliding into Corey's ass with one long thrust, Mike quickly set a slow but steady pace. Each time Mike thrust into him, Corey groaned from the sensation even as he jerked himself off. Corey, when getting his ass fucked, is easily one of the noisiest boys we've had and it's clear that he loves the feel of a dick up his ass. Minutes later, Mike was able to harder and faster, making Corey groan all the more before they changed positions slightly. Still wanking off, Corey moaned as Mike started pounding his ass hard. Mike was getting so into the fucking that he got dominate with Corey, grabbing his shaggy hair in one tight fist for leverage.

Corey flipped over onto his back, his legs spread wide as Mike slid back into his ass. In this position, Mike was able to go hard and fast almost right away. As Corey wrapped a tight hand around his own cock and jerked off, Mike had his own hand wrapped around Corey's throat. Mike was fucking Corey hard and Corey was loving every minute of it. So much so, that without warning, Corey shot cum over his chest and stomach even as Mike kept fucking him. For a few more moments, Mike kept going until he pulled out, tore the condom off and liberally sprayed cum all over Corey. As a joke, I said to Corey that he had to now lick Mike's dick but he took it as a challenge. Sitting up, Corey gave Mike's cock a few quick swipes, making Mike twitch away as his cock is very sensitive to touch after climaxing. As Mike did a great job at fucking Corey, I told him he would get $200 extra, so that he would be making $1200 in total. Look out for the boys in the future!