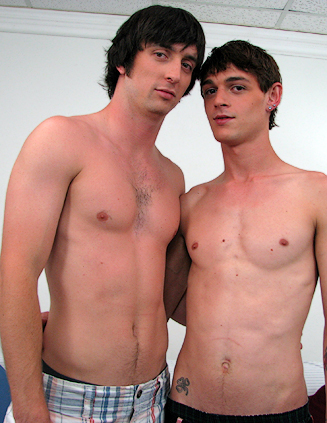 Rex is in the studio today to get his cherry popped by Jeremy. Just like last time, it was obvious that Rex and Jeremy got along well together as they were both relaxed and looked comfortable. However, Rex was still a bit nervous as, while he wanted the money for doing anal, he wasn't that keen on actually going through with it. Still, the negotiated price of $1500 each if they did a flip flop was enough to seal the deal for both Rex and Jeremy. As the boys stood up to start getting undressed, I told them about the controversy on the Broke Straight Boys forum and how a few of the older members were unable to separate fantasy from fact in that just because the straight boys were having gay sex for money, it didn't mean they were actually gay in their private lives.

Both Jeremy and Rex confirmed that although they were getting paid for gay sex, they were straight in their private lives. After a few more minutes of chatting, the boys stripped off naked and sat back down on the futon, palming at their cocks as they watched the straight porn. As Jeremy was hard first, Rex leaned right over and slid the shaft in between his lips. His head bobbing up and down, Rex licked the shaft and sucked on the very tip of Jeremy's cock even as Jeremy reached around and started jerking him off. It was clear that Rex was more comfortable giving head than previously as he deep throated a few times, Jeremy admitting that Rex was doing a great job.

They swapped; Rex sitting back into the futon while Jeremy eagerly swooped down on Rex's dick. Alternating between sucking on the very tip and jacking the shaft, Jeremy soon had Rex moaning for more. As Jeremy rolled Rex's balls in one hand, Rex said that Jeremy was doing a better job than his girlfriend, all the while, Rex slowly stroked Jeremy's cock. All of a sudden, Rex pulled his cock from Jeremy's mouth, saying he was too close to cumming. Opening up the futon, Rex and Jeremy got themselves prepared, ready to start the fucking.

Rex lay on his back, Jeremy straddling his hips, slowly sinking down onto Rex's rock hard cock. Jeremy looked like he was in heaven as he rocked back and forth, fucking himself with Rex's dick. Only moments later, Rex told Jeremy to stop as he had already cum from how tight Jeremy's ass was. I could see that Rex was embarrassed at how quickly he had climaxed but, as he held up the filled condom for the camera, I told him that he had just made a particular BSB member's day.

Now it was time for Rex to get his cherry popped. Still on his back, Rex bent his knees and spread his legs wide so that Jeremy could kneel between them. As Rex's ass was super tight, Jeremy had to take it slowly, inching his way inside of him. Finally, he was all the way in and taking his time, Jeremy soon had a sedate but steady pace as he fucked Rex. However, it wasn't long before he was able to pound Rex's ass hard as Rex panted on each thrust. His hips snapping back and forth, Jeremy said that Rex's ass was tight. Shifting slightly so that his ankles were resting on Jeremy's shoulders, Rex moaned as Jeremy rode his ass hard. Another minute of thrusting and Jeremy announced he was about to cum and sure enough, with a couple of tugs on his cock, Jeremy coated Rex's torso in cum.

As a joke, Rex pretended to lick at a huge dollop of cum pooling on his collarbone but curiosity won out and he scooped it up and popped it into his mouth, saying that Jeremy's cum tasted sweet. Both boys did a great job, especially Rex in his willingness to experiment so look out for them in the updates.