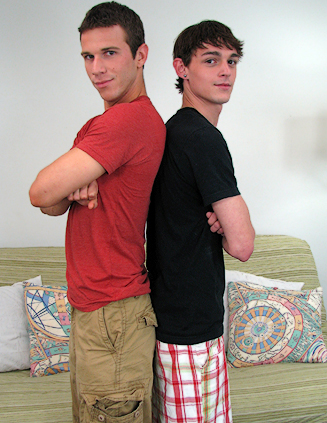 Rex is back in the studio to do an oral scene and is joined on the futon by Ken. As Rex is straight and has never been up close to another guy's cock before, he is quite nervous. Ken, on the other hand, looks like he has taken a bit of a shine to Rex and is looking forward to introducing Rex to the Cult of the Cock. As the three of us were engaging in our usual introduction banter, Ken revealed that, although he is gay, he had actually fucked a girl once in his teens. As we got back on track with things, it was decided that $600 each was a fair price for oral.

Standing up, both boys stripped off to their underwear before sitting back down; Ken in his boxers while Rex wore some tighty whitey's. Surprisingly, Rex was down with watching some gay porn to get himself and Ken in the mood, confessing that he had jerked off once to some gay porn on the internet. The porn that was playing was obviously to Rex's liking as he was rock hard while Ken wasn't far behind him. They took their underwear off, throwing them to one side and as they sat back down, Ken leaned over and swallowed down Rex's cock. With one hand wrapped around the base of Rex's dick, Ken slowly bobbed his head up and down even as he jerked himself off.

Rex couldn't keep his eyes off Ken, watching as his dick was being deep throated by an experienced cock sucker. Sliding onto his knees, Ken licked around the head of the hard dick. Rex, with a heavy hand on the back of Ken's head, hinted that he wanted Ken to go deep even as Ken was making him moan for more. Rex asked Ken if he liked the cock in his mouth and it was all too obvious from the way Ken was lavishing attention on Rex's dick that it was true. Standing up in front of Ken, Rex gasped as he tugged on his low hanging balls while Ken tightened his lips around the tip of Rex's cock and sucked... hard.

Now it was Rex's turn to return the favour. Sitting back down on the futon while Ken stood up, Rex leaned right in and slid the cock into his straight boy mouth. Ken had obviously been a great tutor as Rex was a natural born cocksucker! Ken looked like he was in heaven as Rex bobbed up and down on his dick, even going so far as to try some deep throating. Minutes later, they opened up the futon and manoeuvred into a 69 on it with Ken on the bottom and Rex kneeling over him. With both boys sucking and being sucked, I was suspicious that neither of them were going to last much longer. As Ken pumped his shaft, Rex sucked on just the head, all the while, Ken licked Rex's balls.

They shifted; Rex sitting up against the wall while Ken lay next to him, jerking off as he treated Rex's dick like his favourite candy. A moment later and Rex told Ken to suck on his balls as Rex jerked on his own cock. Ken resumed control of Rex's dick, putting in some hard wrist action even as he licked and kissed Rex's nipple, causing Rex to moan for more. As Ken kept glancing up at Rex, I could see that he wanted to kiss him so I asked them if they would kiss. Immediately, Ken tilted his face up towards Rex and with no hesitation, Rex leaned in and locked lips with Ken. With both boys jerking themselves off, they kissed, the chemistry between them all too obvious as they broke apart before kissing some more.

Rex and Ken were too close to climaxing to blow each other so they lay back down on the futon, both pulling furiously on their cocks in a race to come first. Moment's later, Ken knelt up beside Rex, whispering he was about to cum and to help him out, Rex reached up and played with Ken's balls as Ken spurted all over his chest and nipple. Rex shocked everyone in the room when he licked the cum drops from the head of Ken's cock before sucking the spent dick into his mouth for a minute. Now it was Rex's turn for the money shot and with Ken licking and nibbling Rex's ear, it wasn't long before cum dribbled down the shaft of Rex's cock and into his pubes.