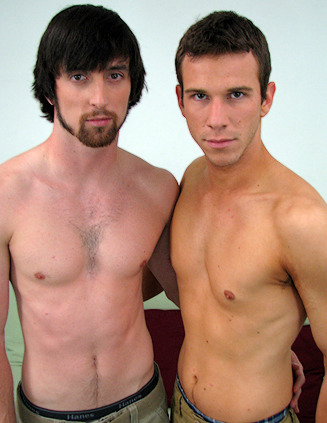 On the futon today, Broke Straight Boys is pleased to have a newcomer, Ken, while also welcoming back Jeremy. They are in the studio to an oral shoot together. Ken previously applied to appear on BSB but as he is gay, there was little opportunity for him so he worked at a couple of other studios. As he didn't have the best experiences at these studios, he applied once more and because he is so good looking, plus has a great personality, I decided to bring him in for a shoot. Ken needs the extra money as he is going to College and has racked up some impressive bills due to student loans and books. Jeremy finally arrived and was ushered into the studio, shaking Ken's hand as they got introduced. Right away, it was obvious that Ken thought Jeremy was pretty hot, especially as Jeremy had the beard back.

With a price of $700 each negotiated, the boys stood up, standing back to back as they tried to work out if Jeremy was the same height as Ken, 5' 11", or a little taller. Ken took off his t-shirt, revealing a muscular and toned upper body while Jeremy did the same. I asked if Jeremy would kiss and without a quibble, he leaned right in and gave Ken a peck on the lips. Short's and boxers stripped off and thrown to the side, they turned around, showing their well rounded bare asses to the camera. They sat back down, both boys playing with their cocks as they watched the straight porn. It wasn't long before Jeremy was rock hard while Ken wasn't quite half hard as the straight porn wasn't really his thing. To help his fellow model out, Jeremy eagerly went down on Ken, slipping the soft cock between his straight boy lips even as Ken reached around and started stroking Jeremy's hard cock.

Jeremy was working overtime on Ken's half hard dick, his head bobbing up and down even as he fisted the shaft every now and again. However, despite Ken being somewhat experienced in gay porn, he was still visibly nervous which was having an effect on him. With his eyes closed and hand resting on Jeremy's forearm, Ken concentrated on letting Jeremy work his magic. Jeremy broke off, leaning back into the futon as Ken took control of his own cock again, wanking at a fast pace as he swallowed down Jeremy's cock. Ken slid to his knees alongside Jeremy, furiously tugging on his own cock as Jeremy slowly thrust in and out of his mouth. Wrapping a tight hand around the base of Jeremy's cock only encouraged Jeremy to face fuck Ken all the more, Ken panting as he enjoyed the feel of a dick in his mouth.

They pulled out the futon and manoeuvred into a 69 so that they were both sucking and being sucked. Ken was sucking on just the tip of Jeremy's cock, slowly running his tongue along the slit while Jeremy was more aggressive, roughly wanking Ken's dick as he dabbed the very tip against his tongue, causing Ken to pant for more. The rougher Jeremy was, the more Ken got turned on and from the way Ken was moaning in pleasure, it wouldn't be long before he climaxed. In a dominant move, Jeremy straddled Ken, thrusting his dick down Ken's throat as he lay underneath Jeremy, all the while, Jeremy pulled out all the skills on Ken's dick. As it looked like Ken was about to shoot, Jeremy hopped down onto the floor, kneeling as he pulled Ken closer towards him. Leaning down, Jeremy immediately went back to paying attention to Ken's dick, alternately fisting the hard shaft and sucking on it in an almost vicious manner, all the while, Ken was panting and moaning in ecstasy.

Only minutes later, Ken grabbed his cock from Jeremy and with a few hard strokes, climaxed with cum splattering into his pubes and onto his stomach and groin. Now it was Jeremy's turn for the money shot so he lay back down on the futon with Ken giving him head. Thrusting up into Ken's hot, wet mouth, it was clear that it wasn't going to take Jeremy too long to shoot. Before long though, Ken wrapped a tight hand around Jeremy's cock and put in some hard wrist action until Jeremy suddenly stood up, gesturing for Ken to kneel on the floor. Only a dozen strokes later, Jeremy shot his load all over Ken's chest and stomach, the cum dribbling down his abs.