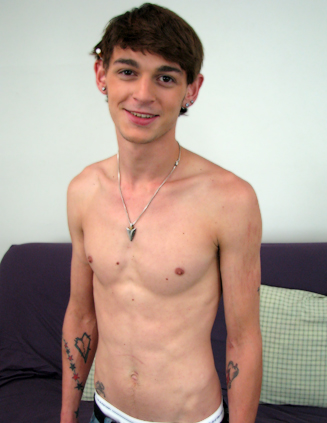 Rex is the latest broke straight boy to apply to the studio to be a model.
As he is pretty cute, I got him to come in for a solo shoot, however, he
didn't appear in the studio on time so after trying him on his cell phone
and getting an engaged signal, I eventually spotted him sitting on the curb
outside the studio. I went out to bring him inside, telling Rex that we were
waiting on him when he admitted that he was nervous. He was on the
phone discussing it over with his girlfriend who ended up telling him to do
it. Once in the studio, I got him to sit down on the futon and we chatted so
that he could relax a bit more.

As we talked, I found out that Rex is a straight guy and engaged to the
mother of his child. Rex stood up and stripped off his t-shirt, telling me
that he was 5' 9" and weighed around 125 pounds. He had a skinny twink
type of body with quite a few tattoo's and pierced ears and lip. Taking off
his shorts, I got him to turn around in his white undies and show his ass
to the camera. Underwear taken off and thrown to the side, Rex sat back
down on the futon, and with the straight porn playing, started wanking off.
Only a few minutes into it, Rex was pretty hard so I got him to stand up
and show off his cock for the Broke Straight Boy's members. His cock was
so nice, I couldn't help but reach out and give it a few strokes myself, Rex
admitting that it was the first time a guy had touched his cock.

Sitting back down, Rex continued to slowly stroke his cock, pinching at his
nipple a few times as he told me that he liked it when his girlfriend got
kinky with them. Getting in close with the camera, I got great view of
Rex's smooth balls and I couldn't resist touching giving the silky skin a
few light strokes with my fingers. As he wanked off, Rex said his cock was
about 7 inches so I told him to measure it, handing him a tape measure.
Rex wasn't too pleased when his cock measured in at only 6 inches,
however, as far as I was concerned, it was a pretty big 6 inch dick!
Pausing to slick some lube down his cock shaft, Rex immediately set a
fast but steady pace as he pulled on his cock.

Twisting a nipple every now and again, Rex was moaning in pleasure as
he stroked his cock and tugged on his balls. It wasn't long before Rex
whispered he was about to cum and moments later, he climaxed, cum
spurting into his pubes before dribbling down the shaft of his dick. Rex did
a great job once he overcame his nerves and hopefully, he will be back
for more in the very near future.