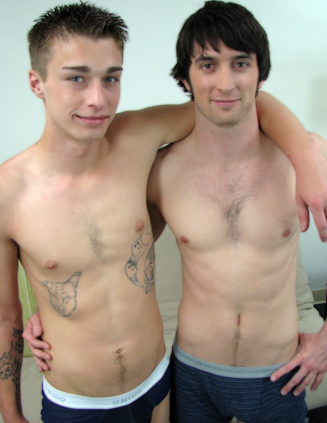 On the futon today are Ashton and Jeremy. They are in the studio to do an anal scene together and surprisingly, they are going to do a flip flop, meaning Ashton is going to be topping for a change, while Jeremy will also do the same. Normally, Ashton is the one bottoming as he doesn't find another guys ass a turn on but obviously, Ashton likes Jeremy enough to be willing to change it up a little. Ashton was looking forward to topping so much, his cock was already hard as a rock just from sitting next to Jeremy on the futon. As Jeremy, Ashton and I were doing our usual pre scene banter, Ashton proved how flexible he was when he bent down and was able to lick his own cock.

The boys stood up, stripping off their clothes as we discussed how much they wanted for the flip flop. As he watched Broke Straight Girls on the TV, Jeremy set about working his cock while Ashton stroked his to maintain the hardness. Sitting down, Ashton immediately told Jeremy to start sucking his cock and without missing a beat, Jeremy did just that. Sliding the hard cock into his straight boy mouth, Jeremy put the hard earned skills to the test, making Ashton moan for more even as Ashton jerked him off. Ashton, full of good ideas, decided that they were going to do a 69 so he lay out on the futon while Jeremy knelt over him, both sucking cock. They shifted to Jeremy sitting on the futon, fisting Ashton's cock as Ashton swallowed Jeremy's cock, both boys as hard as rock. Ashton proved he was a cock sucking pro when he deep throated Jeremy. A quick break for some lube for Ashton's cock and Jeremy went back to wanking him off in hard strokes while Ashton bobbed up and down over Jeremy's dick.

Soon enough, Ashton and Jeremy were ready to fuck and Jeremy was going to fuck Ashton first. They decided to do something a little different and have Ashton kneel on the futon and rest his upper body on the back of it while Jeremy pounded him from behind. Ashton reached behind and helped guide Jeremy's dick into his ass and right away, Jeremy was able to set a steady pace as Ashton jerked himself off. Jeremy was soon pounding Ashton's ass, both of the boys panting hard. They switched it up, opening up the futon with Ashton laying down on his front and Jeremy kneeling behind him and sliding right back into his ass. Jeremy was fucking Ashton in hard, brutal strokes, forcing Ashton to grab onto the side table. Ashton flipped over onto his back, Jeremy immediately fucking him in a hard and fast pace all the while, jerking Ashton off even as Ashton was holding onto Jeremy and trying to draw him in deeper.

Jeremy was proving that he had plenty of stamina as he continued to give Ashton a good pounding, Ashton dragging the side table closer so he could rest his head on it as Jeremy rode his ass hard. All of a sudden, Jeremy announced he was ready to come so he pulled out, tore off the condom and wanked off over Ashton, cum dribbling in between his fingers and onto Ashton's stomach and pubes. Now, it was Jeremy's turn to get fucked in the ass. Kneeling down on all fours, Jeremy winced slightly as Ashton, kneeling behind him, thrust into his straight boy ass. Setting a steady pace, Ashton had Jeremy panting hard almost immediately. Soon enough, Ashton was really pounding into Jeremy, making Jeremy groan on every thrust. Telling Jeremy to shift down lower, Ashton continued to fuck Jeremy in hard strokes, pulling on Jeremy's hair every so often.

All too soon, Ashton was ready to come. With hard strokes, he sprayed come all over Jeremy's back and ass crack. Both boys were exhausted from their workout but we realised that we hadn't set a price so after a bit of negotiation, Ashton and Jeremy got $1100 each for a great flip flop. Watch out for them in the updates!