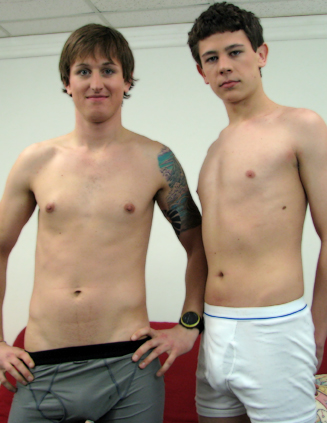 Broke Straight Boys is pleased to welcome back Price and Kyle. They are in the studio today to do an oral scene but as Price was running late for the shoot, Kyle was sitting on the futon by himself and was somewhat nervous about giving oral to another guy. There was a knock at the door and Price walked in and sat down on the futon next to Kyle. I explained the situation to Price and that they were both going to be making $500 for the scene. Price was still uncomfortable about the idea of giving head to a guy even though it was his second shoot, however, he admitted that it hadn't been as bad as he had thought it would be.

I got the boys to stand up and start stripping off. They both had the same sort of body type; lean and slightly undefined but Price had a hit of muscle to him. Still clad in their underwear, Kyle and Price sat back down and after a quick discussion, it was decided that Kyle would suck cock first, something Price was happy with. With the straight porn playing, the boys started playing with their dicks. A few minutes into it, they took off their undies, Price a little disappointed to lose them as he liked the feeling of the material against his half hard cock. It was pretty clear that Kyle was ready to start sucking cock as he kept sneaking peeks at Price's stiff dick.

Barely hesitating, Kyle leaned over and went down on Price. One hand wrapped around his own dick and pumping away, Kyle slowly bobbed up and down on the thick cock as he got used to a cock in his virgin mouth. Right away, he had Price squirming in pleasure, Kyle taking to dick sucking like a duck to water. Kyle, in a bold move, even tried to deep throat, gagging as the cock hit the back of his throat. Price as getting right into it as well, grabbing Kyle's hair and forcing him to choke on his dick even as he started thrusting up into Kyle's mouth. Price pushed Kyle's head towards his balls so that Kyle could suck and lick at them. Opening out the futon, Price knelt on the futon, Kyle on his elbows and knees blowing him. Kyle was certainly showing that he had stamina to spare as he kept sucking on Price's dick and rubbing his balls. Soon enough, Price was almost on the brink of climaxing so they swapped. Kyle lay back on the futon while Price leaned over him, swallowing down the half hard dick.

Kyle was still really nervous about another guy sucking him off so Price pulled off and started fisting his dick in hard strokes to help him along. With Price's expert help, it wasn't long before Kyle was rock hard. Price dived back down on the erect dick, enthusiastically bobbing up and down as Kyle panted in pleasure. Deep throating the hard dick, Price choked but went right back to it even as Kyle put a firm hand on the back of his head to keep him going deep. Although he was giving great head, Price was running out of breath so he knelt up and shoved his cock into Kyle's mouth again while wrapping a hand around Kyle's dick and jerking him off.

The position wasn't working too well so I suggested they try 'docking'. With the help of lube and a tangle of legs, Price and Kyle spread their legs wide and sat closely facing each other, both pulling on their hard cocks. However, as they both wanked off, it was obvious that they were too close to cumming to try the 'docking' but it was only a matter of who would be first. In a fast and furious pace, Kyle jerked on his dick, jets of cum spurting over his stomach and chest while Price wasn't far behind him. Just like last time, Price preferred to be fingered as he wanked off. Sure enough, cum dribbled over his stomach before rolling down his shaft and fingers. Both boys will be back in the studio again soon and hopefully, I'll be able to get one of these two to bottom for the other... just who it will be remains to be seen!