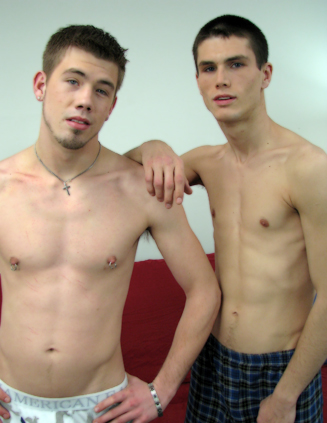 Braden and Sean are back in the Broke Straight Boys studio and today, one of these boys is going to get his cherry popped and take his first cock up his ass. The problem with these two boys is that both are tops; Braden steadfastly refuses to bottom but is happy to top while Sean hasn't done either with a guy before and is nervous about it hurting. I told Sean that he would be making $1500 for bottoming while Braden would be getting $1000 and explained what was going to happen with the scene and despite his fears, Sean was soon joking around with Braden, something that helped him relax a little. I got the boys to stand up and strip off to their underwear. With the porn playing, they both worked on their cocks, getting hard in record time, taking off their undies a few minutes later.

Leaning over, Sean took Braden's huge cock in his straight boy mouth, alternately licking the shaft and sucking on the head. Remembering his lessons from previous sessions, Sean gave deep throating a try, choking as the cock hit the back of his throat. It wasn't long before Braden was ready to fuck while Sean indicated he was also ready to take it the next level. Braden, being a smartass, opened up the futon with Sean still on it, prompting Sean to laugh about how strong Braden was. It was good to see that Sean wasn't letting his nerves get to him too much while both he and Braden got themselves ready.

Braden and Sean had decided they would give doggie style a go first, so they got themselves positioned, Braden telling Sean not to tense up as it would only hurt more. Braden kept talking to Sean, giving him instructions and helping to position Sean as he slowly thrust into Sean's virgin ass. Right away, Sean was in a bit of pain as Braden set a slow but steady rhythm. Groaning and panting with every thrust of Braden's dick, Sean concentrated on riding out the discomfort even as he had to get Braden to slow down when Braden ventured to pick up the pace. A minute later and Braden was able to go faster again, all the while Sean was very vocal as his ass got pounded.

When Sean had had enough of doggie, he suggested switching to on his back, Braden quickly agreeing. Moving into position, Braden slid back into Sean's ultra tight ass even as he reminded Sean to keep breathing. This seemed to be an easier position for Sean, however, he was still in some pain even though Braden was able to go harder and faster. As Sean grabbed onto his own cock and started wanking off, it was obvious that most of the discomfort had gone away as he was also a bit quieter with his moaning even as Braden still rode his ass hard. Suddenly, Braden sped up, fucking like a jackrabbit until he pulled out, ripped off the condom and jerked off over Sean, cum spilling over onto Sean's stomach before dribbling down Braden's hand.

Although Sean was jerking off as well, it was clear he wasn't going to cum in the next few minutes so I asked him how it had felt, getting fucked for the first time, Sean admitting that it hadn't been as bad as he had thought it would be even though it had hurt at first. Still fisting his dick, it was only a few minutes before Sean shot all over his stomach and chest. This is what we like to see on BSB, straight boys taking cock for the first time and Sean did very well indeed. Look out for both Sean and Braden in the future!