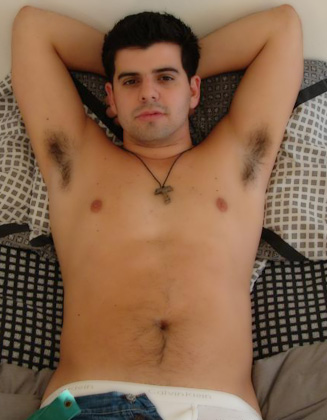 Time for another hot shoot of a straight boy jerking off for us again and I am getting close to having my party. Mark lives on his own and with a car payment, rent, and all the bills they are adding up. Mark's lights are going to get shut off today if he doesn't pay the bill. In searching for a quick way to come up with some cash to pay the bills he found our ad. I explained to him everything that would go on in the shoot and that he would be paid $100 for doing the shoot. Then, we would look at having him come back for more work.

Mark removed his shirt and he looked pretty tan, and that he had been working out. In high school and college Mark was on the rowing team, so that explained the build that he had. Undoing the belt and the jeans he slid them off and he had a nice set of legs. Lying back on the bed, he put one arm back behind his head and I noticed that he had very nice arm pits. Sitting there playing with himself in his underwear for a while to start to get hard. I had some porn playing for him in the back ground. Pulling off the underwear he was half way hard, and working on getting the rest of the way. Wanting some lube, I pointed it out to Mark on the table.

I noticed that he wasn't getting there right away, and so I started to ask him when the last time that he jerked off. Mark replied that he had jacked off the night before. Lying there on the bed stroking his hard, throbbing cock he would play with his balls. Pulling them, and rubbing them with his hand. As he jerked off I noticed that his mouth stayed cracked open and that was kind of hot. Often biting his lip, and giving some good breathing. The longer he jerked off the more his legs started to wiggle. Moving the legs around and curling his toes. That is when he made some more noise and Mark was having his orgasm. A huge squirt of cum shot up his stomach, and that is when the second one was even further up his chest. Mark ended up getting cum in both of his arm pits. When it was all said and done I think that Mark had a fun time. Mark showed some interested in coming back for another shoot and has some interested in our orgy party that we are going to have soon. There is going to be a girl there, and there is going to be a gang bang.

The party (orgy) is just around the corner and I hope that everyone is just as excited as I am. I have been planning it for a while now, and of course you can expect some surprises there. I hope all the guys are happy to have some group fun.