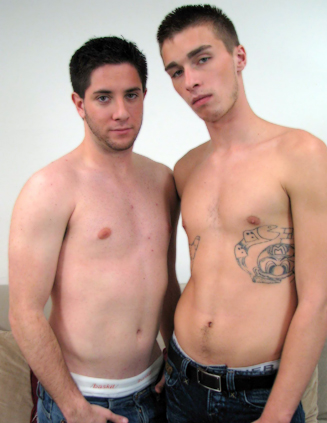 Today, at Broke Straight Boys, we have Ashton and Jake. They have appeared together previously in their hot oral scene, and today, it's time for them to take it to the next level. I'm really hoping that Jake will be the one to bottom today for the first time as Ashton has taken one for the team already on BSB. However, as the boys had already talked about what was going to happen before the scene, it was Ashton who was going to be the bottom boy and Jake who was going to be topping. We worked out a price of $1300 for Ashton and $1000 for Jake, although, when I mentioned he would get $1500 for bottoming his first time, Jake definitely looked interested.

Surprisingly, both boys had bought along their own lap tops, personal porn already loaded up and ready to play. Jake was the first one to start stripping off, Ashton soon following. The guys were getting along well, both more relaxed than their previous shoot, their joking around lending a fun atmosphere to the shoot. By the time Ashton was sitting back down on the futon, and working on getting hard, Jake was already hard as a rock. Obviously, his personal choice of porn doing the trick without a problem. Ashton was also well on the way to being hard, however, I got Jake to start sucking him off to give him a helping hand. Right away, Jake swallowed down the stiff dick, alternately deep throating and sucking on just the head. From how well Jake was sucking on Ashton's dick, I suspect Jake has been practising away from the studio.

They switched; Ashton leaning over and taking the hard cock into his mouth, even as he jerked himself off. It was obvious that Ashton was a pro at cock sucking, Jake leaning back and enjoying the ride, gasping every time Ashton deep throated. With his gaze firmly on the porn playing, Jake reached around and grasped Ashton's cock, fisting it in hard strokes. It wasn't long before they were both ready to get down to the fucking. So, with the futon opened up and both boys lubed, it was time for Jake to fuck his first guy. Ashton knelt on the futon, Jake behind him, and helped guide Jake's dick into his tight ass. Jake was able to slide right in on the first thrust, starting out slow and gentle before picking up the pace, breaking off to put on some more lube.

Diving right back in, Jake set a hard and fast pace, Ashton moaning as his ass got pounded. Switching it up, they flipped over so that Ashton was on his back, legs spread wide with Jake immediately setting a fast but somewhat clumsy rhythm. Still, both boys were moaning loudly, Jake fisting Ashton's dick as he drove hard into Ashton. It was clear that they were both close to cumming and it was only a matter of who was going to cum first. Sure enough, it was Jake who came first, spurting over Ashton's stomach and arm while Ashton was only a moment later, helped along by Jake massaging his balls, cum spilling over his hand and into his pubes.

Both boys were exhausted but they had done a great shoot that I know the BSB members will enjoy. Jake is going to think about bottoming for the $1500 and I know that Ashton will be back soon.