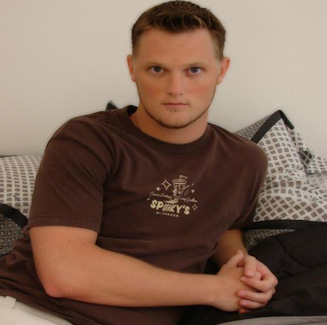 Meet Ray a guy that came down from Orlando to do some work for us. He heard about our ad and what we were looking for and decided to give it a shot. Now, Ray has a little bit of a gambling problem and between that the girlfriend they both tend to take his money. However, he is planning on taking his money and going on a trip to Costa Rica on a little vacation. Standing there in the room with me, Ray is a 6'2" giant and has a pretty smooth body to go with his surfer type build. Take a second and look at Ray's eyes and how big, brown and puppy-dog eyes.

Going for the shirt, Ray goes his shirt and reveals a nice smooth chest. He is very tall and so when he pulls off his jeans the thought of his penis comes to mind. Of course, I wanted to know how big he is. Pulling off the white boxer briefs he covers his penis up while laying down on the bed. Slowly pulling and playing with himself his soft penis starts to grow. Quickly I learned that Ray had a small penis, and that he also was uncut. Ray was very nervous in the shoot, needed the porn playing in the background to get any harder. I even took a break and left the room to see if that would help. However, I came back into the room and just left the volume up on the tv and that seemed to do the trick for Ray.

Ray seemed to be excited in the shoot even for being so nervous, because some pre-cum was showing up on the tip of his penis. Gently hitting his penis against his lower stomach and hand to get hard. Ray has a very nice personality and shy side. However, I think that he is one that I might be able to get to perhaps try some things with a guy. Even though he still tells me no for right now, and I know he will at least think about it some more because of his money situation. After a short time, Ray started to jerk off even faster and throughout the shoot he really didn't make any noise. When he got close to cumming he breathed a little deeper and shot an amazing size load all over his chest getting the cum up to his shoulder. As soon as the shoot was over I asked him the last time he had cummed and he said that it had been a few days. It was hot, and even I got turned on. Now, I invited him back for the party that I was going to be throwing with some of the models and had even told him that I was going to have some girls there. So, keep watching to see just how the party turns out and who is all going to be there.