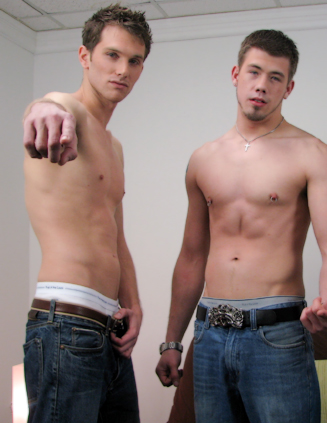 In our studio today, we have Braden, our 'gay for pay' boy and Shane, our resident porn professional. They are here to do an anal scene, with Braden topping and Shane being the one to bottom. Even though Shane isn't keen on bottoming, he's gracious enough to do it for Broke Straight Boys. Braden and Shane were comfortable with each other right from the start, having appeared together previously in an oral scene, which will be put up on BSB after this scene. After much discussion and joking around, Shane decided that because he was the one bottoming and since Braden's dick is so big, he needed at least $1700 while Braden would be getting the usual rate of $1000 to top.

Both boys stripped off and sat back on the futon, dicks in hand and stroking themselves to get hard while they watched the straight porn playing. The good with Shane and Braden is that neither of them take long to get rock hard, both erect almost instantly. Shane was the first one down on his knees, cock deep in his mouth, and pulling out all the tricks on Braden. Shane was obviously a complete pro at giving head as Braden, normally pretty quiet when receiving head, was moaning loudly until it was clear he was close to cumming so Shane pulled off and knelt on the futon, telling Braden to suck on his dick. Taking the cock into his straight boy mouth, Braden worked hard on Shane's dick, even as he pulled on his own cock.

Shane said he was ready for a cock up his ass, and despite being a porn professional, there was no doubt that he was somewhat intimidated by the girth of Braden's dick and as such, he made sure to lube up extra carefully. Down on all fours, Braden slowly thrusting into him, Shane said that the last time he got fucked, it was at the BSB studios. It was clear that Shane was in some pain even as Braden took it slow and gentle before Shane told him to 'fucking do it!', Braden speeding up and fucking his ass hard. Braden wasn't giving Shane's ass any mercy, slapping Shane hard and leaving a red handprint behind, prompting Shane to tell him to 'give it to me!' Shane was being ridden so vigorously, he was having to grab onto the small side table for support!

A slap to Shane's ass and Braden told him to get on his back. With his legs spread wide, Shane moaned as Braden shoved his dick back into his ass, setting a hard and fast pace even as Shane fisted his own dick. With a slight change of position and pace, suddenly, Shane's discomfort turned to pleasure. A quick squirt of lube on his cock and Shane was jerking off hard, close to cumming from the intense fucking he was getting. Braden sped up, thrusting into Shane with fast, shallow jabs, sending Shane into his orgasm, cum spurting over Shane's torso even as Braden continued to fuck him. Only a moment later, Braden announced he was ready to cum, ripping off the condom and jerking himself off over Shane's dick, balls and his ass crack.

Both boys did a great job but were exhausted from all the fucking. Look out for them in the updates as I'm sure we haven't seen the last of them.