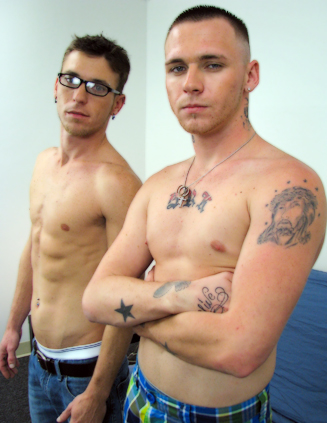 Today's scene features two new models; Jesse and David. Jesse is 24 years old, has numerous tattoos, a slightly dangerous attitude and although he is straight, he considers himself 'gay for pay' as he has done work on other gay sites before Broke Straight Boys. David, on the other hand, is 24 years old and has the sexy geek look going for him, complete with glasses, and is bisexual. To save myself some time, I decided to get both boys in to do a duo jerk off scene, telling them I would pay them $200 each.

I got the guys to strip off; Jesse revealing a solid build, standing 5' 9" and weighing 155 pounds while David had a slimmer, more toned body, standing at 5' 8" and a 130 pounds. Both boys were also from Florida but didn't know each other. With the straight porn playing, I told David and Jesse to get themselves hard and only a few minutes later, both were ready for action. Taking off their underwear, they guys showed off their cocks, Jesse surprising me with the size of his, and also that he was uncut, which is rare on BSB. It was so big, I got him to stand up so the BSB members could take a closer look, Jesse admitting it was about 8 1/2 to 9 inches. Not that David had anything to be embarrassed about but Jesse might give Gigantor a run for his money.

With a dollop of lube each, they kept stroking at their dicks. Both David and Jesse had their eyes shut, clearly in their own little fantasy land as they tugged hard on their cocks, Jesse breaking his concentration only to reach for the lube again. The room was silent except for the heavy panting as the two boys got closer to their respective orgasms. At this point, I couldn't tell who was going to cum first. However, it was David who spilled over first, his cum splattering his stomach and pubes while Jesse was putting in some hard wrist action next to him and only a moment later, he came, a small load spilling into his pubes and over his hand.

Both boys were tired but happy they had made some money. Although Jesse is Mr Surly, I suspect that, once he is more comfortable, he may show a softer side while David is more shy but obviously willing to experiment more with BSB. Look out for these two boys in the future.