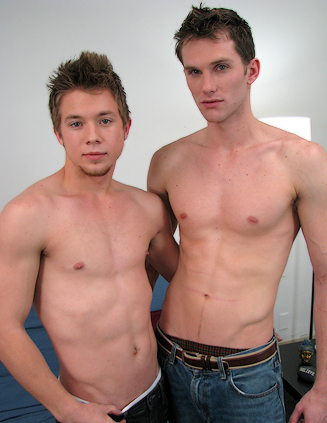 We welcome back Shane, our resident porn professional whilst also introducing Cameron. This is Cameron's first time at Broke Straight Boys and instead of doing the usual solo jerk off scene, I thought I would put him with one of the BSB favourites; Shane. Cameron is 21 years old, blonde, straight and broke as he just got laid off from his job with a moving company. With bills to pay, a friend, who is a member of BSB, told him to contact us and as such, he flew from Nashville to visit. As for Shane, well, like always, he is flat broke and in need of some cash. Although he has never touched another guy's dick before, Cameron is willing to give oral a go for $600.

The boys stripped off, both revealing taut and toned bodies, Cameron stating he is 5' 10", has size 11 feet and weighs 150 pounds while Shane admitted that Cameron was hot. Already, I could see that Shane and Cameron were going to work well together, both having easy going personalities, paired with good sense of humour. With the straight porn playing, Shane leaned over and swallowed down Cameron's cock. Moving onto his knees, in between Cameron's legs, Shane worked hard on the straight boy's dick, breaking off for a moment to lick Cameron's chest.

Shane had Cameron panting in only a few minutes, prompting Cameron to tell Shane to 'suck that dick!' It was obvious that Cameron was getting one of the best blow jobs of his life while Shane was also enjoying it as he was rock hard simply from sucking on Cameron's dick. It was time for Cameron to show Shane how well he could do at sucking cock, Shane sitting back down on the futon and Cameron taking his first dick in his straight boy mouth. Cameron had obviously been paying attention while Shane had gone to town on his dick as he had Shane moaning in pleasure almost immediately. Telling Cameron he was doing a good job, Shane encouraged him to take more of his cock by pushing down on the back of Cameron's head. Feeling brave, Cameron even attempted some deep throating.

Shane was in awe of Cameron's oral skills, joking that he was going to keep Cameron and wanted to know who had taught him to give head, Cameron saying it was his girlfriend. Cameron was doing such a good job, the mythical natural born cock sucker, that I just had to restate that Cameron was straight. Shane was close to cumming so Cameron started to jerk him off in hard and fast strokes, telling Shane to 'cum for me', Shane splattering both himself and Cameron with his cum. Now, it was Cameron's turn to cum, his hand wrapped around Shane's still hard dick while Shane gave him a hand job. Only a couple of moments later, Cameron took control of his own dick with Shane watching intently, pulling at his cock. Cameron was in deep concentration and I knew I had to watch him closely so I could get his orgasm on camera and sure enough, Cameron shot all over his abs and pubes. Surprisingly, Shane came again, only seconds after Cameron, clearly turned on by watching Cameron shoot.

The boys were so cute together, I asked them to kiss and without hesitation, they leaned in towards each other and locked lips. I think Shane might have finally met his match in Cameron and I'm excited by what I have in store for them in the future.