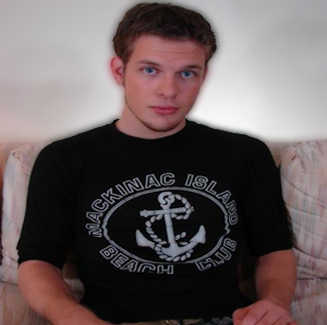 Traveling to Phoenix for a Convention we planned on doing some shoots with some local talent while
there for Broke Straight Boys. One of the companies that we work with brought along a model,
Maverick and he is 19, straight, and lives in Denver. He was in very good shape physically, and
seemed to have a fun-loving personality to match. I had Wes call me up from one of the ads that we
were running and told him about a shoot that we had going on. I explained the process and he was
excited to come down and make some money.

When he got to our hotel room, I glanced him over and realized that he was a little on the shorter
side and that he had some very nice facial features. Now, normally I am not a big fan of the facial
hair. However, it seemed to be very good looking on Wes. I had a sofa in our hotel suite and so that
is where I decided to put them sitting next to one another. Maverick seemed to be much more at
ease and took a much more relaxed position on the couch. It was Wes's first time being in front of
the camera so he was a little on the nervous side when it came to getting ready.

I ran through how things were going to get started but that was it. With a flick of the button, we
were rolling. Going for the clothes, Wes took his time unbuttoning his shirt while Maverick whipped
off his shirt. Piece by piece the clothing came off, and both guys sat there playing with themselves. I
was impressed by the fact that both were handling it so well. I had offered them a little more to start
to touch one another, and I had Maverick reach over and help Wes out. After just a short while I
then had Wes return the favor to Maverick. That was great! Once, I get guys going that allows for
me to push for some more.

Personally, I know that Maverick wasn't as nervous, so I knew that I had great chance of him
sucking some cock first. Wes really didn't like the idea and even made me stop the camera. He
wanted to put his clothes on and go home. We started talking and I asked him really how bad it
could be. I explained that I knew that he needed the money that I promised just like before the
shoot that he would get the money right afterward. I agreed to return to the couch, and we got
started. I was not happy with me of course when I asked him to go down on Maverick, however it is
my job to get the most I can for our viewers. I was excited to see that with some big bucks going
into his pocket he would give it a shoot. Later I found out from Maverick that Wes used more teeth
than he should have.

Sitting back, they both jerked each other off again, but had to go to jerking themselves off in order
to get close to cumming. Before I knew it Wes shoot a nice size load all over his cock and lower
stomach. I knew that he was worried he wouldn't be able to finish and I was glad that it wasn't an
issue. Maverick took a little longer to have his orgasm, but it was well worth it. He shot a massive
amount of cum all over his stomach, and was relieved to just relax. I hope to work with both these
guys some more, but I hope to fly Maverick into our studio for some more work as well. Keep
watching to see just how far we can get him to go.