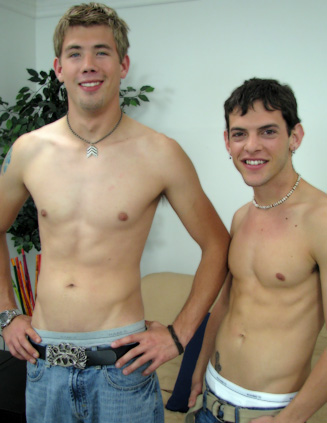 Braden and Brian are in the Broke Straight Boys studio today to do a follow up scene to their oral shoot. Brian has already decided that he is going to be the one to bottom, thus, he gets $1500 while Braden, who is topping, will get a straight $1000. While Brian has bottomed twice before, he hasn't done so in a while and with the size of Braden's cock, it's natural he is somewhat nervous. However, he wasn't the only nervous one as this would be Braden's first time fucking another guy.

The boys stood up and stripped off naked, Brian showing his cute ass to the camera. Braden sat down on the futon, legs spread wide and Brian kneeling on the floor in between them. With the straight porn playing, Brian sucked Braden's cock into his mouth, head bobbing up and down as Braden concentrated on the porn. Brian must have been doing a great job as Braden's cock could crack concrete, Braden muttering that Brian was pretty good. Licking Braden's heavy balls, Brian hit a ticklish spot as Braden twitched and jumped. It was Brian's turn to get a blow job as Braden still needed to practice his cock sucking skills.

Brian sat back on the futon with Braden kneeling in front of him, Braden swallowing down the soft cock. Even though Braden doesn't like giving head, he had Brian moaning and panting for more in only a minute. It wasn't long before Brian was rock hard as Braden sucked on just the head. As Braden had gone half soft, Brian went back to blowing him, Braden standing in front of him as Brian worked hard on the big cock. Soon enough, Braden was back to being fully erect and ready to fuck. With the futon opened up, the boys lubed up and Braden put on a condom. Brian got down on his hands and knees, Braden behind him, slowly pushing into the tight ass. However, Braden's size was proving somewhat painful for Brian and he had to slow things down, taking control and rocking back and forth on Braden's cock.

Braden pulled out and put more lube on his cock before Brian went back to carefully backing onto the big dick. Finally, Braden was all the way in and was able to set a steady pace, Brian moaning for more almost immediately. Switching from a quick rythym, Braden started thrusting in long and deep, causing Brian to moan all the more. I suggested changing positions but Brian wanted to keep fucking doggy style a little bit longer as he was enjoying it so much. Braden was like a machine, just fucking Brian's ass while watching the porn. They switched positions, with Brian on his back and Braden able to go hard and fast right away as Brian jerked himself off. Braden switched up his rythym every now and again, going from shallow and fast to long and slow, all the while, it was clear that Brian was very close to climaxing. However, it was Braden who came first, tearing off his condom and dribbling cum over Brian's cock and balls.

Brian, turned on by seeing Braden come, wasn't far behind him, cum spurting over his stomach and into his belly button. Both boys did a fantastic shoot, Braden saying it was harder to fuck a guy than it was a girl. I'm sure that Braden and Brian will be back in the future and who knows what I'll have planned for them.