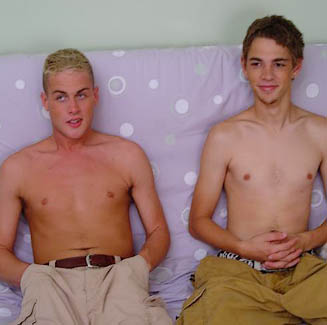 Shawn called me up for an interview, and was interested in bringing his friend Devon along for a shoot as well. They both live in the same dorm and looking to make some great money. Money seems to be the main reason that both of them are here today for a shoot. It seemed right off the bat that neither one cared that they were in the same room together they just wanted that nice paycheck that we talked about. I explained to both of them what was going to happen off and on camera and they were fine with it.

Starting with the shirts being peeled from their bodies, both guys have smooth skin that stands out. It looks as if Shawn needs a bit more sun then his friend Devon. I asked them to unbutton each other's pants, and both guys were very hesitant in taking off the other ones pants. Of course, money talks and so when I offered some more money to make them undress each other it happened.

Finally, when they had their clothes off, we could see that they were both packing some huge cocks. Shawn has such a huge dick for being such a thin, twink, looking guy. Now, I got both guys to agree to give oral and that was great. I think that Devon was really getting into it, and was looking forward to having Shawn's dick in his mouth.

Devon wanted to get everything over with, so he wanted to just do the 69 position. Starting out side by side, they each put a cock in their mouth and started. After a short time, then Shawn moved to be over Devon. Stopping they say next to one another and jerked off, then trying to help one another out they would jerk each other off as well. However, this would go on for a while and even Devon put Shawn's dick in his mouth one more time. I am glad to see that they both were enjoying things.

Shawn laid back next to Devon and was concentrating on the porn. He wanted to get finished so in paying close attention he tried to block Devon out. He ended up blowing his load all over his foot and hand. I had him take his hand and reach over with the cum still on it and help Devon out. It was now time for Devon to share his load for us. After a while of jerking off Shawn's hand wasn't doing the job so he took over. It was taking Devon forever to finish. I even had to stop the camera and asked him what we could do to finish.

Devon said that he looked to have his balls played with and Shawn wasn't going for that. Shawn jerked him off once again and I had to reach in there and play with the models balls. It isn''t something I do on a daily basis, but when a model asks for it, we give it to him. Devon let it known that he liked to have his balls played with and so Shawn reached over and now started to touch them. Jerking off faster, I think that we finally got back on track. Before I know it, Devon started to deep breath and let out a "fuck!" A huge load was sprayed all over this stomach and it was very thick, and creamy looking. Both guys had great cum shots and had a lot of fun. I offered them a chance to make double their checks to come back and do another shoot for us, so we will have to see if I get that call. Until next time!