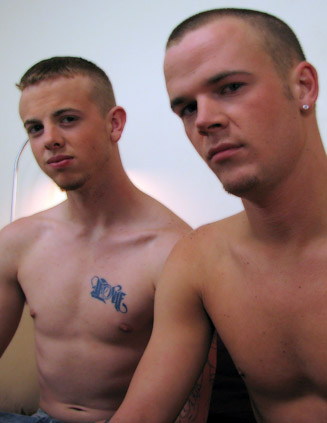 Pairing up Mike and Austin, this was one of Mike's very first shoots with us, and I wanted him to star with a model that has been here many times. I had them take a seat on the couch so we could begin, and I explained to them that Tyler was going to be helping me out by handling the video camera in the shoots. I asked Tyler what he wanted to see the guys do, and he didn't really know what Mike would be comfortable with. Since he was straight, has a girlfriend, but has been handling the shoots well I wanted to push him a little. I found out that he had some little experiences with guys outside the studio, but only in the studio has he fucked a guy. Tyler said that we should pay the guys $500 to do a shoot, and Austin said that it wasn't enough. I told him that I agreed, and would increase the amount if they would do oral and kissing. Really wanted to see the kissing, but both guys said that they didn't want to do it. Wanting to see how they would open up after we got started I had them talk off their shirts.

Stripping out of their shirts Austin had a great tan, and Mike had a bunch of tattoos with one of them covering his whole arm. In asking Austin if he had a tattoo, he said that he didn't want one, because when he gets older it wouldn't look good. We talked about Austin being 23 years old now, and he started with us when he was 18 years old. Then, I asked Mike how old he was, and he was the young one in the room being 19. Continuing to have the guys get undressed they took off their shoes, and I noticed that Austin had on a pair of nice shoes. When I moved in for a closer look, I discovered that they were Prada's. With Austin still living in Tennessee he saves money just because things cost cheaper there. Getting down to their underwear Mike had on a pair of briefs, and Austin had on a jock strap that was going to be auctioned off. Mike gave Austin a spank on the ass and snapped the straps on his jock strap. I explained to the guys what they would be doing, and everyone was on the same page. While they worked on getting hard, I turned around to put on some bi porn for them to watch.

Mike was quick to get hard, it never takes him long, so he had is dick out stroking it. I asked Austin if he would start sucking it and he just kind of looked at me for with his eyes, expressing that he didn't want to go first. He took the straight boy's dick in his mouth and started to suck it. As Mike got turned on, he put his hand on the back of Austin's head to have him go a little faster and deeper. He also kept his eyes glued to what Austin was doing the whole time, and after several minutes he reached over to rub and play with Austin's dick. Austin was very good at giving oral and he was able to take the whole dick in his mouth at one time. Then, Austin sat up and told Mike that it was turn for his mouth to get to work. Mike started by jerking Austin's dick to try to get the blood to start rushing into it. Opening wide he was able to put a couple of inches in as he got started, and Austin reached over to stroke Mike's dick. When Austin tried to place his hand on the back of Mike's head, Mike would stop giving oral, because he didn't like the gagging feeling. Austin's dick was harder than a rock, and watching Mike give head he had one of the most perfect set of lips. After a while the two of them started to jerk each other off.

As the two were giving each other hand-jobs, they both seemed very turned on. Then, it was very clear that Austin was enjoying Mike's hand job a little more and his breathing started to change. As he started to moan more, Mike pumped faster getting Austin to explode into a full blown orgasm. Austin's cum shot out of his dick like a sprinkler and sprayed all over his body. Mike's hand was covered in cum as well, and he teased Austin by jerking him a little while his dick was still very sensitive. Afterward Mike just kind of wiped his hand off on the sheet so that we could keep going. Austin was able to catch his breath and was ready to return the hand-job to Mike. Something seemed to lose its effect, because Austin wasn't able to keep Mike hard. Instead Mike took over jerking himself off, and was told to get close to cumming. When Mike started to show signs that he was going to shoot, Austin reached over and took control. That's when Austin got to see for himself the load this straight boy could shoot. Not letting Mike off easy Austin pumped Mike's dick when it was super sensitive as well. After the boys were done we cleaned up all the cum with the jock strap to be auctioned off, and the boys hit the showers.