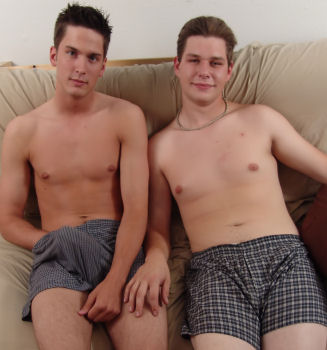 As you can tell the shoot has a different style to it then all the other shoots on Broke Straight Boys.
The normal director went on vacation and I was asked to fill in doing a shoot. There were two
models that the company was interested in shooting while they were gone. J.J. and Dominick were
two guys that were very interested in doing a shoot. Now, Dominick was smooth, white, and had a
thicker build. J.J. had a nice tan, smooth, and a great physical build. Meeting with both of the guys
before the shoot both were very interested in doing a shoot.

They both were walking into the shoot knowing that they were going to have to sit next to another
guy and jerk off. Once the camera was turned on and video was rolling things got underway. They
were completely naked and sitting there on the couch trying to get a boner- of course, we always
have to make the shoots interesting so we got Dominick to suck his first cock ever. He leaned right
over and put it in his mouth. To my surprise he even got it all in his mouth giving a good deep-throat
blow job. J.J. didn't think that he would be able to keep it hard during the oral shot; he kept
mentioning it of camera. We gave Dominick a break and had them jerk each other off.

First sitting side by side they reached over and seemed to do a good job for a while. Then, we had
them switch positions and that seemed to go ok. However, a blow job over a hand job bets it every
time. We decided to make J.J. have to suffer through it one more time and sure enough standing
over Dominick he put his cock in his mouth. Soon after, J.J.'s mouth drops and you can clearly see
that he is enjoying it.

To wrap things up we had J.J. take a seat back on the couch and we were going to have Dominick
finish him off so that way he could have a guy get him to cum. We were planning in it taking him a
while to cum, however that was not the case. J.J. shot a huge, load all over his chest and it just
dripped down. Once J.J. was done, Dominick took a seat next to him, and started to jerk off. Then,
we had J.J. slip his hand over trying to help out, but he was having a big cow off camera and didn't
want to touch Dominick any more. He wanted to go get into the shower. Working up a sweat, finally
Dominick was ready to shoot his hot, creamy load all over J.J. He kneeled to the side of J.J. and shot
his load all over him. J.J. tilted his head back to try and stay out of the range of cum. However, once
the shoot was over he didn't wait for anyone to hand him a rag he just got up and ran to the
bathroom.

Well, I was excited to do a shoot for Broke Straight Boys and I hope that you enjoyed the show. Stay
tuned because next update the normal guys will be back. Keep watching!