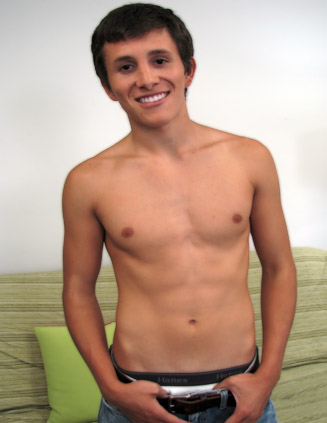 Jake is our newest Broke Straight Boy, who found his way into our studio while exploring the internet. He is 19 years old, and is in Florida visiting from California, and with just being here for a couple of days, he was experiencing the jetlag from the time difference. When I brought up Jake's sexuality and if he was straight, bi, or curious? His response was that he was bi-curious, and that's when he got into telling me an explanation. While he was in his first semester of college he had an experience with another guy, and to him it was very exciting, giving him a rush feeling. Jake wanted to explore that some more and that's when he found us. Besides just exploring the sexual side, money was being considered as well, so that he could pay for college rather than taking out student loans. I explained to him that he would just be doing a solo shoot, and for that he wouldn't walk away with much. However, when Jake would come back for shoots that would involve more, he would make bigger size checks. That really seemed to get his attention.

I asked Jake when the last time that he jerked off and had sex, and his response was that it had been months. Then, he came back by saying that he jerks off all the time, however when it comes to actually having sex he has only done it twice. That caused me to ask if he was a top or bottom, and very quickly did he told me a top. We got into how he would just have to try things to see what he really liked. To get started I had him stand for me to get a better look of his overall body. He stands 5'7", 130 lbs, size 9.5 shoe, brown hair, and says his dick is around 7 inches. Taking off his shirt, this boy said that he likes to work out, but has been hard for him to really show it when it comes to his muscle tone. I had him go for the pants next, and when those were coming off we talked about how he was just starting to take up surfing lessons from a friend. Jake was left standing in his underwear, and I directed him to take a seat on the couch, while I turned on some porn for him to watch. His choice of preference was gay porn to see some dick.

Now, clearly this boy was very horny, and he made several references that he was ready to sample some dick. Right away, Jake stood out as a good choice and see what he will do on camera. Once he was hard and ready, the boxer briefs came off revealing that he had the 7 inch dick that he said. He made himself comfortable on the couch in more of a lounge type position, and he stroked his cock to the porn. Not really making much noise while he jerked off, but not a lot of guys do. They need some stimulation from another person for that part to happen. He continued to change positions, and seemed very comfortable with me moving about the room. Even when I stepped in to get a close up he was able to keep going and stayed hard. Jake was able to give me a warning that he was about to shoot his load, so when he came the load shot right up and landed in the middle of his chest/stomach. At least from the size of his load I could tell that he had saved up for a few days before doing the shoot. After that I explained that I would find someone to pair him up with and Jake said he was ready to get some ass. I told him that we would start slow with an oral scene next, and then anal could come after that.