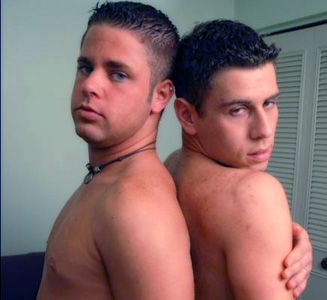 Alex is back again for another shoot and right off the bat he didn't want me talking about his last
shoot. Alex came to the shoot thinking that he had a solo shoot, when all along I was planning a duo
and I just wanted to surprise him. Sitting on the couch next to him was Constantine, he is 18 and
gay. Now, I needed a second guy for the shoot and I didn't have any available straight guys. I went
to the next best thing of course, a gay boy that likes to play with straight boys. I told Alex that
Constantine would only be sucking his dick and he seemed to go with it for the fact that he just
wanted the money.

Constantine dropped to his knees in front of Alex and went for his pants. When he went to unzip the
zipper he pointed out that Alex had precummed in his shorts. His explanation was that he had seen a
car full of hot chicks and played with himself in the car. I don't know if we really will find out if that
was the story or if he just had gotten excited. Constantine seemed to start slow and then really get
into deep-throating Alex's big, thick cock.

Alex placed his hand on the back of Constantine's head and seemed to be enjoying the fine blow job.
Then, they switched roles and Constantine stood up and Alex leaned forward and placed his mouth
over Constantine's cock and swallowing every inch. Constantine's breathing got deeper and some
light moaning started to happen. Constantine laid down on the couch and Alex continued to give him
head. Slowly Alex started to move his mouth south and work his way to Constantine's asshole. Once
there, Constantine was in heaven and seemed to be very captured in the moment. Coming too, he
grabbed a condom off the table and tore it open with his teeth. Passing it down to Alex, who looked
up at me. I told him to just put it on, and sure enough that was all I had to say. Before I knew it he
was sliding his cock in Constantine's ass.

They fucked for a while with Constantine on his back, and then they changed to Constantine riding
Alex's cock. Both seemed to be enjoying things and Constantine told me that he was about to shoot
his load. Constantine stopped, and I told him that the cum was only going to go on his chest. This
hot, steamy, creamy, runny load went all over Alex's chest. Then, they switched places and Alex
wanted to shoot all over Constantine for pay backs. Sure enough with just a little bit of jacking once
the condom was off, he shot a nice size load all over Constantine's stomach. Slowly leaning down, he
placed his mouth over the cock. Putting his mouth over it, he consumed his dick. Dakota was very
worried, about not doing things right. He even stopped a couple times to make sure that he was
doing ok, and to see if I had enough. Sure enough, I figured they both went for oral. I offered them
both more money to let Jacob fuck Dakota. Now, Dakota really didn't want this to happen. I asked
him how much they both make and what this money would do for them. That is when they realized
that they really needed the money.

Once Alex was done he got up from the couch and ran to the bathroom. I was trying to get his
attention so that I could get him to let me finish the video. The water in the shower was turned on
and I hear the door to the shower close. Once he was done I told him to let me finish the video next
time or I was going to deduct his pay. Plus, I pointed it out that it was only a fluid and Constantine
had cum all over him as well. After all of this, I will have to see if Alex is interested in doing another
shoot. Who knows, but broke straight boys always seem to be calling me.