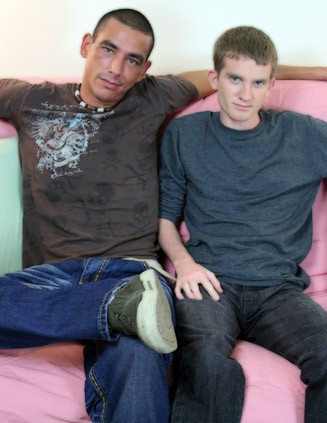 On the day that I had a shoot schedule, there was so much going on right before it was to get started that I told the guys to go in the room and just start to watch some porn. I would be in a few minutes later, and we could get started. Well, needless to say it was like 15 minutes before I was ready, but when I was I turned the camera on as I started to walk in the room. Turning the door knob and pushing the door in, I found that the boys had their pants down and were jacking off to the porn. Since they got started without me and both were semi hard and ready to go, I asked them if they wanted to do oral and if so both would walk away with $500. Darin spoke up saying that he could really use the money and Steven said that he could too. However, Steven just didn't know if he wanted to do it. With a little bit of peer pressure he agreed, and so to get him out of the way, he also said that he would go first. Moving over on the floor in front of Darin, he took a hold of the cock and put the tip in his mouth. He started to suck on it, he swallowed most of the whole cock and as it grow he could only get about half of it in his mouth. To help him out, he started to use his hand as well to jerk and suck at the same time. Darin got turned on by the blow job, and he placed his hand on the back of Steven's head.

Face fucking Steven's mouth Darin used his buddy like a toy, and it was hot to watch the straight boys play. I asked Darin to take off his shirt, so that we could see the abs that he worked so hard to get. His upper body had a very dark tan compared to his lower body that was covered up by shorts. The two of them kept up a pace of up and down giving me hopes of Darin getting off from the oral. Only once in a while would Steven break from sucking to lick the dick or just jerk it off. Darin tried to take over for a second to see if he could get himself closer to shooting his load, and as he jerked off Steven licked his balls. When Steven took back over he used one hand to clamp the cock right at the base, and the other hand to jerk off. Then, he got his mouth involved every once in a while giving it a lick or a suck, and when Darin seemed to be more turned on by the oral that got Steven doing it again. That's when all of a sudden Darin announced that he was about to shoot his load, and so he took over stroking his dick. Steven backed off and let Darin do his thing. When he came, cum went everywhere and some of it landed on the floor by Steven.

I had the guys switch roles and places, and it was now Steven's turn to get a blow job from his buddy. Darin didn't complain, he just put the soft cock in his mouth and started sucking. He would stretch it out, play with it, try and stroke it at the same time. This way he could maybe get Steven to get hard to shoot his load as well. After a while though there was nothing happening and I was a little disappointed, so I asked Steven about it and he just said that this wasn't his thing. It wasn't hard to suck, but getting hard with a guy touching and sucking on him just wasn't doing it like a girl. I explained that since he wasn't going to be able to shoot his load that I couldn't pay him the full amount. However, he would still walk out with some money in his pocket. This was just one more example of how some people watching think that it can be so easy to get up in front of the camera to try this, but nerves and thoughts can get in the way. The shoot was still a success with one guy getting off, so I thanked them for coming in and doing a good job.