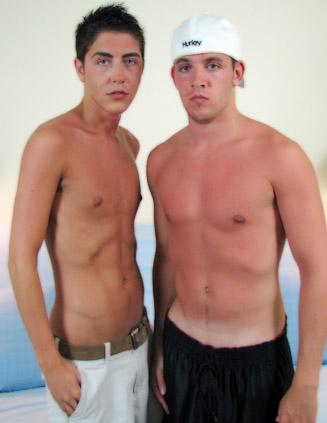 Cory has starred on Broke Straight Boys before doing shoots, and that's because he works for us doing the makeup for BrokeStraightGirls.com. Usually I try to watch how many gay boys I bring in to work on BSB, but since he does such a great job for us I wanted to give him a reward. Recently, Cory had expressed that he really wanted to do a scene with CJ, because he was a huge fan of his work. So, what I told him I would do was call CJ up and see if he wanted to come in for a shoot, and in the mean time he was just going to hang out. Cory didn't mind he had some stuff that he could do, so I went in the other room and called CJ. When I was on the phone with CJ there was no way that he was going to pass up a shoot and the money that he could make, so he said that he would be right down. It took him like 45 minutes to get ready and over to the studio, and when he arrived I first went in the room to tell Cory. When I told him the good news he was excited, and I had CJ come into the room. When I explained the situation to CJ and that he would make his typical $1200 for doing the scene, CJ said that it would include everything that they usually do.

To get things going, I had the guys stand up and take off their shirts, to start to get undressed. Right away, I caught that CJ had a bright red sunburn that looked like it hurt covering his chest, and he said that he fell asleep while he was tanning. I had him pull down his shorts a little bit to show us his tan lines and the difference in his color tone. Not stopping there though, the guys took off their shorts, and also their underwear getting them completely naked right off the bat. I brought up the fact that Cory looked like he had spent some time out in the sun getting a tan too, and I told him that he should be spending more of his time working instead. Already pulling on their dicks to get hard, Cory did the no, no in putting lube on his dick before the oral. So, I had him start with giving CJ oral to get him hard, no one had any issues with that, so they got right to it. Cory sucked on the straight boys cock like a pro, getting him hard and horny. CJ had to look at the porn playing in the background, but not as much as usual. After a while I had them switch, but before CJ gave head, I had Cory wipe off his dick.

CJ was putting more of the cock in his mouth at one time, and even deep-throating once in a while. He didn't even jerk Cory off as much as I thought that he would have to give his mouth a break. With each shoot he seems to get better at oral and anal. Knowing that this was one of Cory's fantasies I didn't want to just rush right through it, and so I had the guys put the couch into a bed. From there they did a little 69 action and I focused on watching CJ mostly just because he happens to be hot to watch. After filming them in a couple different angles, I stopped them for a moment and said that it seemed like they were ready to move on to the fucking. CJ started to get into position and I asked him how he would like to start out, and his response was on his back. Making sure that he was lubed up and ready, Cory moved in behind him with his dick going right for the hole. Pushing in, inch by inch his dick worked its way in CJ's ass. From there, the two of them started to connect with one another. Cory turned CJ more on his side, so that he could hold one leg up against his chest as they fucked. The speed would change going fast at moments and then slowing down to more of a smooth pace.

Trying out another position CJ got in the doggy-style position and Cory was able to continue right where he left off. Every time that Cory would ram forward, CJ's ass cheeks would bounce. All of a sudden, Cory pulled out and said that he was really close to shooting his load. The guys moved so that they were sitting up against the wall to watch the porn. Really, CJ looked at the TV, and then Cory watched CJ jerk off. With some lube, and being horny, CJ let out that he was about to shoot his load. His body tensed and all the muscles really started to stand out, and then he came with most of the cum running down his cock. After that Cory was able to get off knowing that CJ was able to, he shot his load up the middle of his stomach. On his very tan, dark skin the white cum stood out and really showed how much there was. Cory was able to have his little fantasy that he would remember, and CJ made his money.