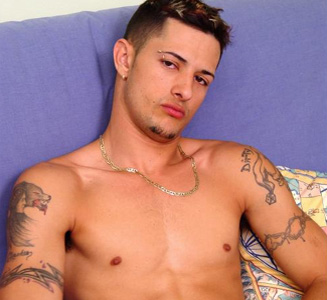 Taz has done a shoot with us before, and needed to make some more money. I explained that a solo only pays $100, he was really bummed at that point. He told me there was a guy at the mall that is always hitting on him and that maybe they could do a scene together. He gave him a call and we had to go pick him up in order for him to be able to do the shoot. His name is Sean, and he was caught of guard when we approached him. He agreed to come over and hang out and see where things go. This would be Sean's first time in front of the camera. This was the first time that we ever had to go pick up a guy that was not interested in doing a shoot.

We all got back to the studio and they took a seat on the couch. I explained that they would just be jerking off and no touching. Stripping down, out of their clothes they both sat back and started to play with themselves. Both guys have really big dicks. Sean has been after Taz for a while, and I had him reach over and take a hold of Taz's cock. He does it for a while and I tell him to suck it. With an extra $50 that seals the deal and he goes down on Taz.

Taz keeps his eyes on the TV for a while and then he looks down at what was going on. Taz really seemed to be enjoying the head Sean was giving him. After a while I knew it was time to see if we could push things a long even more. I told them both that it was time to fuck and Sean didn't seem to like the idea. I offered Taz $800 to let Sean fuck him, and he wouldn't go for it. Then, things seemed to change over to Sean getting fucked. Both agreed and we got the room ready for a fucking scene. Sean laid on his back and Taz's cock went right in, with short slow strokes to begin with. Picking up the pace they were fucking hard on the bed and it looked like Sean was enjoying every bit of it. Taz stroked Sean off at the same time.

Sean got on all fours and Taz started fucking nice and hard. Squeezing that Sean's ass, and biting his lip. Sean ended up squirting his cum all over his stomach and it is always a good sign that the guys were into the shoot if they both cum from the fucking. That is what we exactly got from both of them. Sean got cum all the way up to his neck. Taz then shot his load all over Sean. It was a good shot, and I look forward to seeing if maybe we can get Taz to be fucked if he gets broke enough for it. Until then, enjoy! Slowly leaning down, he placed his mouth over the cock. Putting his mouth over it, he consumed his dick. Dakota was very worried, about not doing things right. He even stopped a couple times to make sure that he was doing ok, and to see if I had enough. Sure enough, I figured they both went for oral. I offered them both more money to let Jacob fuck Dakota. Now, Dakota really didn't want this to happen. I asked him how much they both make and what this money would do for them. That is when they realized that they really needed the money.

Dakota said that he would give it a try, and we could take things from there. Jacob hasn't had that many experiences with sex. I had him put the condom on and then lube it up. Getting in behind Dakota, he inched his way in slowly. We had to try again once he was in, and this time with even more lube. Jacob pulled out, and then slowly sled forward. We are now filming a fucking scene with two straight boys. Both seemed to be doing well, and then I had them take a seat next to one another. Jacob took a hold of Dakota's cock, and within a few short minutes Dakota was cumming. He shot this huge, white load all over his stomach.

It was time to have Jacob shoot his load. He had lost his hard on, and so he had to get it back again. That took a while to happen, and I had to turn on some porn. Once he was hard it didn't take long before there was precum. Jacob shot lots of clear precum all over himself. Then, came the creamy stuff and thick too. It went all over his stomach, and both guys were feeling sticky. Both did a good job, and I think were just relieved when the shoot was over. I don't know if they will be back again. I think they will have to see if they are really hurting for money to come back.