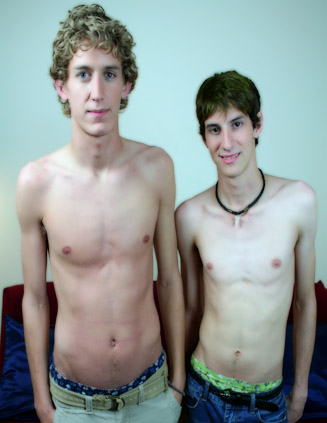 Cody was back in the studio to do another shoot, he is a local 19 year old, surfer boy that loves to hang out on the beaches of Ft. Lauderdale. As he was sitting on the couch I brought up that the last time he was here on Broke Straight Boys he did a solo shoot, and that I wanted him to have a chance at making more money. In talking with Cody I found out that he loves to travel, snowboard, was going to school, but had to take a break to make some money, and currently is single. He recently broke up with his girlfriend because of some relationship issues, so he has been doing his own thing. I told Cody that I was going to pay him $500 and I was going to bring in another model that has done a bunch of shoot with us before. The other model was gay, and his name was Mike. In a joking manner I told Cody that Mike had a huge cock and he was going to fuck him in the ass. Caught off guard, Cody really didn't know how to respond, but kept saying that he should make more than just $500. Just then there was a knock at the door, and Mike walked in and took a seat on the couch next to Cody. I asked Cody if he had ever sucked another cock, and in fact he said that he had never touched one before. That's when I wanted to know if he would let Mike suck on his dick, and then maybe later on we could see if he would be interested in making more money to return a blow job. For the undressing, I instructed Mike to take off Cody's clothes, starting with his shirt they both took it off. Mike moved down to being on the floor in front of him, undoing the belt and pants to come down. Cody was left there sitting naked, but Mike started to play with Cody's limp dick to get him hard.

Mike put the cock in his mouth and as he started to suck on it, he stretched it with his lips and worked on getting him turned on. As the dick got bigger, that meant that Cody liked the blow job, and we could see that Cody had a HUGE cock. Mike was pretty good at deep-throating, so he did it as much as he could, along with licking, and jerking him off. After a while, I told Mike to take his shirt off, and then that led me to having Mike stand. With some extra money being offered, Cody agreed to start by touching his first dick other than his own, and then from there he would suck on it. Unbuttoning Mike's jeans, Cody exposed the gay boy's dick, as it hung there ready to come to life. Cody started to touch it for the first time to see what another guy's dick felt like in his hand. Squeezing and pulling on it, Cody took a moment to play, and then I told him to put it in his mouth. It seemed a little awkward the way the two of them were positioned, and I am sure that it was just because of how tall Cody was. Asking Mike to sit down on the couch, Cody continued to give the oral for a little while longer, and then started to jerk him off. Mike enjoyed breaking this straight boy in here on broke straight boys, and he pointed out the bottle of lube to Cody. With a handful of lube and a strong grip, Cody started to give his first hand job to another boy.

Stroking as quickly as Cody could, I noticed that with his other hand that was free he rubbed Mike's chest. With every passing second Mike seemed to start to get closer to having an orgasm. When he got close he warned Cody that he was about to shoot his load, and Mike's body tensed up and became a red in color. Mike came, shooting his load all over his stomach, and I was impressed with Cody's first hand job. Before we could really move on to doing anything else, I let Mike go clean up and Cody to wash his hands. Returning back to the couch the guys took a seat and then it was Cody's turn to get off. Mike told him not to worry, that it would be a fun experience. Mike began by giving him some more head to get him hard again. Once he was hard, he took some lube, and started to jerk him off. I told Cody to give a warning just like Mike did and I just stood back to watch it happen. When we reached the point that Cody let out his warning, it was only a fraction of a second later that cum went flying everywhere. I mean it too in that it went all over the room, and afterward I told Cody that we were going to start referring to him as the sprinkler. The guys even pointed out some cum that got on my shoe, and on some of the camera equipment. That was a great way to end the shoot, with a hot boy like sharing his load with us, and I told the guys that they could get cleaned up. Now, I hope that Cody will come back to go the rest of the way to trying anal either topping or bottoming.