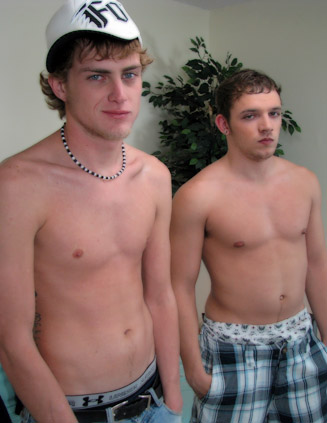 This shoot will be going back for many of the members to when Shane and CJ first started to appear on Broke Straight Boys. Both had done a handful of shoots, and I got the idea one night on my drive home to put the two of them together. When I called them up, I told them that my idea would be a series of a couple of shoots that are linked together. First having them start out with oral in one, doing anal in another, and possibly ending with a threesome. Shane was the one that really wanted to know how much he was going to make for doing all three. On the day of the shoot they showed up and I introduced them on camera. They have seen each other before in passing at the studio, but just never starred together. I explained how I thought things were going to go, and from there I asked what kind of porn they wanted to watch. Almost in stereo sound, they told me straight porn and that's what I put on for them. Getting undressed they took off each piece of clothing until they were down to their underwear. From there they took a seat on the couch, and started to play with their dicks to get hard.

Neither of the boys was being shy, so each of them took their dick out of their underwear to make it easier to jerk off. I spoke up telling them that they could take the underwear off, and that's when I asked which one was going to give oral first. Shane said that he would do it, and so he turned to his side to begin. Lowering his body down so that his head was just above CJ's dick, he opened his mouth wide. As he started to swallow the cock, he let his lips do most of the work at first. CJ was hard after a few minutes of the blow job and Shane changed his technique, so that he could use his hand as well. This way as his mouth would go up, so would his hand creating one big rush of sensation through CJ's dick. At a good point I had the two boys switch and it was Shane's turn to get his dick sucked, and so CJ reached one arm over Shane to support himself and he began giving head. Shane has been a guy that oral seems to always get his blood pumping and his dick hard. As CJ got more into it, Shane reached over and jerked CJ off to keep him hard. Shane has become much better at interacting with guys on his own in front of the camera.

CJ was very good at giving a blow job, because he was getting Shane to the point that he would moan a lot throughout it. Either he was very good at picturing a girl sucking his dick with everything going on in the room, or he was starting to come out of his shell with the whole guy/guy thing. CJ got to a point where his mouth was getting tired and lock-jaw. So, he went to jerking CJ off with a bunch of spit and a speedy hand. At one point, Shane reached around and took over jerking off, because he was getting close to cumming. Shane stroked his dick with his hand moving very fast, and his breathing gave it away. As he came, the cum ran down his dick and hand for the camera to see. It was a good size load, and Shane had said right before the shoot that it had been a couple of days since he last had sex. After that I moved over to CJ, who was busy trying to get closer to getting off to wrap up the shoot. His stroking technique was different from Shane, in that his hand moved much slower and his grip was a lot tighter on his dick. One thing that I like about both these boys is that when it gets time to get off it takes them no time at all to make it happen. CJ warned me that he was about to shoot his load, and so when he came his load ended up on his stomach. After he had a moment to catch his breath, I told the two of them that I would be bring them back in a couple of days to do anal. Neither one was jumping off the couch in joy, but they were excited about not being as broke by the end of the week.