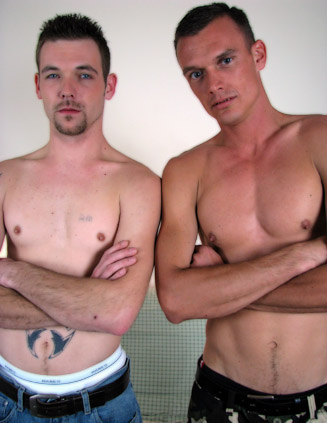 Bringing Bobby and EJ back after they did their oral shoot, I wanted to see them do anal. When I spoke to each of them on the phone, I left the window open to who would do what. On the day of the shoot, I offered the person who would top $1000 and the one that would bottom $1500. Bobby spoke up saying that even for the higher amount he wasn't letting a dick up his ass. EJ had no choice if they were going to do the shoot other than to bottom, but he said that he really could use the extra money since his construction job was hurting for work. Both guys are straight, have girlfriends and they had no idea what these guys are doing done in South Florida to make the money. Standing up the guys took off their shirts, and while they did that, I asked them if they worked out, since both had lean body builds. Bobby likes to work out, and EJ gets his workout from his job. Both boys stripped down to get completely naked and started playing with their dicks. I told them that they could do whatever they wanted, just put on a good show and let me film.

Moving a little closer together they reached for one another's dick to start by giving each other a hand job. However, Bobby was the first one to break and go for giving EJ a blow job. After a few minutes EJ was hard and they switched so that Bobby could get hard. Bobby's monster of a cock was ready after EJ gave some good head, and I asked if they were ready to begin the fucking. Bobby seemed excited, and EJ was ready as well, but I could tell that he was nervous. Getting the room and themselves ready, EJ was going to start out by riding so that he could get comfortable first. Bobby lied down on his back, EJ stepped over him, and slowly he started to lower himself down on the cock. I reminded him to breath, so that he would not be tense the whole time. EJ was able to take more of the monster dick in his ass, than I thought he would be able to on his first time. He also warned Bobby to stay still and let him do the work for right now. The more motion that EJ seemed to do, the more turned on Bobby got.

At one point EJ's legs got tired, and so he let Bobby do the fucking, and that he did. Causing EJ to moan and breathe really hard. Changing position they got in doggy-style and Bobby made it look like he was doing a push up with his body the way it was on the bed. Bobby did well at fucking and keeping a pace, while EJ just stayed there taking it. I was able to get some great penetration shoots when Bobby had one of his legs up. However, before they got too close to cumming, I had them try one more position with EJ on his back. Grabbing his legs, EJ was able to also start to stroke his dick at the same time as getting fucked. Bobby kept up the steady pace making the bed knock against the wall. It was only a matter of time before EJ started to breathe more heavily, and started to have an orgasm. Yelling out a warning, he came shooting his load on his lower stomach and right away he made Bobby pull out. Stroking his dick as fast as he could, Bobby was able to shoot his load just like a squirt gun. I thanked them for the great show, and told them that I planned on bring them back for more work considering that they worked so well with one another.