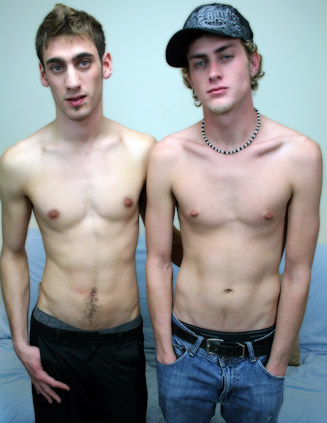 Bringing back Gino and Shane, I talked to them both on the phone about the shoot and what each of them would do. My plane was to have Shane try anal for the first time with a guy, and Gino to bottom, knowing that his girlfriend would get a kick out of watching him be submissive with another guy. Gino told me that he would try it, and Shane just wanted me to not have things go too far for him on his first experience. The day of the shoot the guys took a seat on the couch and we started filming right away. Nerves were running high in the room, and both guys were being a little shy. I explained what was going to happen, and how much each of them was going to make for doing the shoot. The only thing was that I needed Gino to cum at the end and to bottom the whole time or he was going to walk home with a parting gift instead. Gino said that he was ready, so I told the guys to take off their shirts.

After their shirts were off, I told them they could remove their pants next and both remained seated to do that. Asking Shane to stand for me I wanted him to take off his underwear, and as he was left standing naked. I told Gino to go ahead and start to give him oral, so Gino positioned himself on his knees down in front of Shane. He put the limp dick in his mouth and started to suck on the whole thing. Slowly as Gino's mouth ran up and down the shaft of Shane's cock, the blood filled the cock making it thicker in size. It didn't take long for Shane to get hard, and when he was I had him take a seat on the couch for Gino to continue. After a few more minutes Gino's oral turned into a lot of smacking noises from him sucking on the tip of Shane's dick. Interrupting them I told them that it looked like Shane was clearly ready to fuck, so both guys spoke up and said that they were ready. To try something a little different from other shoots I had them pull out the leather ottoman that was on the side of the room.

Gino applied some lube to his ass, and he leaned his body over the ottoman resting his body weight on it, so that he didn't have to hold himself up. Shane put a condom on, and then put a handful of lube on, before guiding his dick towards Gino's hole. He ran the tip of his dick all over the entrance of Gino's hole to make sure that it was covered in lube. Pushing forward with his hips the cock started to go in causing Gino to moan. Shane sank his whole dick in all at once, and then began to build up a rhythm to the fucking. The more intense it got the more that the two of them seemed to be turned on. Grabbing a handful of ass, Shane gave Gino's butt a couple of good squeezes. Sitting back Gino got in more of a sitting position and the two bodies hitting one another made a lot of noise. To change it up I asked them to try another position, and so Shane sat on the couch while Gino sat on his cock. Moving up and down at first slowly, once Gino was able to find a way to support himself, he went much faster. Gino was a moaner!

The one thing that I notice about Shane was that he was doing the fucking, but he wasn't getting into this position as much. When his cock slipped out of Gino's ass, I used the opportunity to have them try another position and go back to doggy-style. They made the couch into a bed, and Gino laid flat on his stomach while Shane got ready to put his dick right back in. The two of them started fucking again, and this time they made it the most intense yet. Shane pulled Gino's hair and treated him like he was his own personal slave; I just had to warn him not to blow his load inside. After another minute, Shane stopped, saying that he was getting close to shooting his load. Pulling out he took the condom off and went to stroking his cock fast as to not lose the orgasm that he was having. When he came, the cum oozed out all over his hand, and he said that he was relieved afterward.

Moving over to Gino he wasn't really completely hard and concentrating on getting off. I asked him if he was going to get off for the camera, and he said yes. I let him do his thing, and even stepped away for a bit to see if that would help. However, he then told me that he was still a little camera shy, and I told him that he was going to leave with our parting gift instead of the full check. He was still happy to get fucked for the first time and for getting to work with Shane in doing the shoots. Gino will just have to be a work in progress, as for Shane I think that he will continue to do the shoots, so that he can keep making the great money he walks out with. We will see about bringing them back, so until next time . . . .