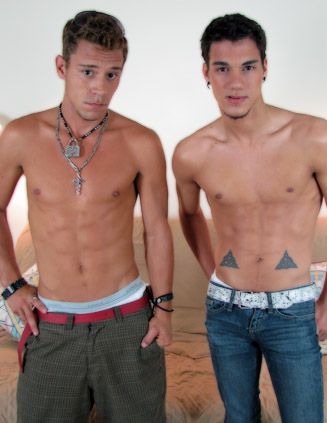 Tom and Kaydin contacted us off of our website about doing some work in the hopes of getting their hands on some easy income to fill their wallets. The two of them lived in Key West, and so we setup a date for them to come up to Miami to do a shoot. On the day of the shoot when they arrived, I could tell that their nerves were running kind of high as they walked into the studio. I had them take a seat and we just talked for a few minutes and then I had them do some paperwork. Keeping them going I had them move to the shoot room and take a seat on the couch. It was there that I just picked up the camera and started filming asking them questions and getting to know them. Both of them are straight, and have girlfriends. They have been friends for over six years, and working together at a hotel for several years the two were recently laid off when the economy took a turn. Now, that both are strapped for cash, they were looking for a way to get back on their feet and that's how they came across our site. I asked the two of them if they had a problem jerking off next to each other, and it was only Kaydin that spoke up against it. However, he knew that he needed the money, so quickly said that it was fine.

I found out that the two of them had never seen each other naked before, never watched porn together or anything. So, this experience was going to be interesting for the two of them. To get started I had the two of them take off their shirts, and so when they did their bare chests were exposed. Right away I picked up on their very nice tans that they had, plus their very tone abs as well. Continuing on their shoes came off, to lead the way to their pants, and I told them that it was fine for them to stay in their underwear for a bit. Tom didn't seem to be the shy one, as he pulled his cock out and jerked on it trying to get his cock hard. I pointed out to the sides of each of them they had a bottle of lube that they could use to help them out. In asking Tom how big his dick gets, he told me around 7.5 inches to eight, and as for Kaydin he said 8 inches. As a test I asked what kind of porn they wanted me to put on for them to watch and while I offered them everything I had, they did say they wanted straight porn. As it was Tom who seemed to be off to a great start, his cock began getting thicker and as time went on got longer as well. Watching Kaydin he seemed to be much more nervous or something, because he wasn't getting hard at all.

Kaydin told me that he just needed a few more minutes, because this was just his first time being in front of Tom and a camera. Stepping back, I tried to focus more on Tom to allow Kaydin a break to get a boner. I noticed that as Tom stroked his dick he watched the porn, but he also took a glance every once in a while down at Kaydin's dick. Filming Kaydin jerking off he used one hand to clamp his dick at the base of his cock, and then with the other hand he slid it up and down the shaft. One thing that I noticed was that lube did in fact help his cock get harder, and as Kaydin got turned on he became more vocal and was more entertaining to watch. Tom had slowed down to the point that he was hardly touched his cock in order to let Kaydin get closer to getting off. However, Tom let out a warning that he was about to shoot his load. Just has he came, shooting his load on his stomach, Kaydin yelled out that he was cumming too. His load squirted all over his hand mostly, and down to the base of his cock. Both guys had great looking bodies, and proved that they could get hard and shoot their loads. I asked if they wanted to come back to do some more work, and it sounded like they were up for the challenge.