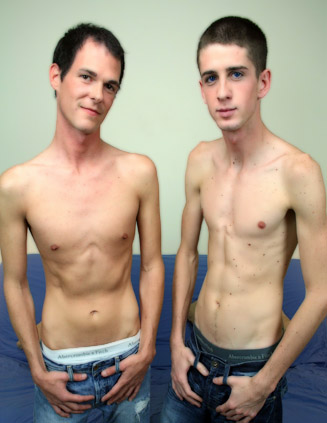 Alec told me on the phone that he was really in a bind and needed to come up with a bunch of money fast. I explained to him that the quickest way that I had for him to make the most money with Broke Straight Boys was to do anal with a guy and for him to take a dick up his ass. Thinking about it more and more he told me that there wasn't anyway that he could take a dick. Instead, he asked about fucking a dude. I told him that we could do that, but he was going to need to suck his first cock if he wanted to make even more money. He told me that he had no problem with that either if that was going to give him enough to get him out of the situation that he was in. We set up for him to come into the studio two days later, and I got on the phone with the guys to see who I could pair him up with. Going with the first guy that told me he could take a big cock in the ass, I went with Hayden. When the day of the shoot arrived, Hayden was the first to show up excited to do the shoot. Once Alec arrived I gave him a minute to get settled and then we all moved into the shoot room.

Alec seemed to be a little nervous, but he always has this easy going attitude about everything. I really quickly went over everything that they were going to do in the shoot, and then I had them go right for their clothes. Peeling off their shirts, the two guys standing next to each other were very similar in build. They took off their pants, and both guys had on briefs from A&F which was kind of funny. That rarely happens, so they took a seat on the couch in their underwear to work on getting hard. I told Alec that he was going to have to suck a little cock for the first time to make the extra money, and I pointed out that Hayden being gay would give some pointers on how to do it right. He told Alec to keep a wet mouth and use his tongue a bunch, and so Hayden went for taking his underwear off. At the same time, Alec did his as well, and as Alec put the first dick ever in his mouth, I told Hayden to play with Alec's dick too. For some reason after a couple of minutes of Alec sucking, Hayden wasn't getting hard, so I had them switch. It was the opposite however when Hayden gave head to Alec. His cock got as hard as a rock.

Alec's cock was just perfect in every way! The right length, thickness, straight, size of the head, and HARD! I told the guys that it seemed like Alec was ready to start fucking, so we quickly changed the couch into a bed, and the guys got into position. Hayden wanted to start out riding, to get used to the size of Alec's cock. Then, after a while they could switch, so very slowly he proceeded with sitting down on the throbbing cock. Hayden's tight asshole swallowed the straight cock right up until it completely disappeared. Moving very slowly to start, he went up and down on it, and I was able to get some great angles. Listening to Alec, he was moaning from the sensations of how tight the ass was, and they started going a little faster. I asked the guys if they were ready to switch into another position to get even more into the action. The guys got into the doggy-style position and Alec picked up right where he left off, but he was respectful about it too, making sure that Hayden was comfortable.

Pushing my luck just a little more, I asked Hayden to turn over onto his back and for them to continue. Alec put both of Hayden's feet against his chest as he fucked. After about a minute, Hayden got a cramp in his legs, so they re-adjusted without really stopping. The most intense part was when Hayden was lying more on his side and that allowed Alec to get a lot rougher with the fucking. This actually made him start to have his orgasm, and he quickly pulled out to shoot his load on Hayden's stomach. After he came on Hayden, I asked him if he thought he could get off pretty easy for us? Touching his dick lightly as we talked, he seemed pretty tired from their moment of fucking and it was clear that there was a good chance it might not happen. So, I told the guys that they could hit the showers to clean up, but before I let Alec go I wanted to know if it was as hard as he thought it was going to be. His response to the camera was that it wasn't that bad, and when I asked him if he would do it again, he told me that we would just have to talk about it. Let's hope we can convince him to come back to Broke Straight Boys for some even wilder action.