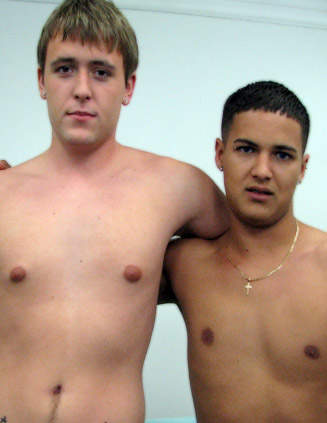 Pairing up Owen and Christian to do a duo shoot together after they both had recently did a solo shoot was a perfect idea. Both were looking to make some more money and that was going to come from exploring oral as the next step. Since they both were looking for the same thing I figured it would be a perfect opportunity. I told them that in their solo shoot they made like $200 to $300, and now I was going to offer them $500. Plus, something that I have been doing as an added bonus if the guy gets off when the model jerks and sucks him off than he will make an extra $200. That would tell me who would give the better blow job/hand job. Neither one of them had any questions, but both seemed really nervous as they sat there in front of the camera. Knowing what was coming, but having it being a new experience. I told them not to worry we would take things slow, and try to make it as comfortable as possible. To get things going I asked them to take off their shirts, so both stood up and paused waiting for the next command. Dropping their pants they were left in their boxers, and I told them to take a seat as I got some porn playing for them to watch. When I asked what kind of porn they wanted to watch Christian said that he wanted straight.

I asked the boys who wanted to suck dick first and no one volunteered. With neither of them jumping up to the chance to get the first cock in their mouth I nominated Owen to do it. As they sat there on the couch watching the porn both of them played with their dicks to work on getting hard. After a few minutes it was time for the underwear to come down. Both still didn't have raging cocks, so I told Owen to go ahead and get started with Christian. Owen grabbed the very soft, limp dick and was hesitant in putting it in his mouth. I told him that it would grow, and get much bigger. That it did after Christian seemed to relax and take his mind to a fantasy. The oral that Owen gave most have been good, mixing up sucking the tip and deep-throating. Christian said that it was going well, and that he liked it. That was the best chance for them to stop and change things up. I told them to go ahead and open the couch up into a bed, so that they could get a little more comfortable. Getting in the 69 position on the bed, both of them were on their sides facing each other.

After a little while Owen rolled over so that he was lying on his back, and this allowed for Christian to keep going. I told him to at least keep jerking Christian off so that he didn't go completely limp on us, and as they continued Owen rubbed his own body. Every once in a while his hand would slid up to a nipple and start pinching it. In watching Christian give his first dick sucking he was quick to use a bunch of different techniques. He would deep-throat, lick the shaft, and concentrate on the tip of the dick. At one point though, he ran out of breath forgetting to breathe as he gave head. Going to jerking him off instead, I handed him a bottle of lube and the two of them gave each other hand jobs. I let them go for a while, but I did finally tell them to just go to jerking each of themselves off. It just didn't seem like they were going to be able to get the other one off. Once Christian started jacking himself off it didn't take him long before he let me know that he was getting close to shooting his load. His feet began moving around, and then several squirts of cum shot out on his stomach. I moved over to Owen who seemed like he was then just moments away from sharing his load. Sure enough he came, without a warning on his stomach. I asked Owen if he would move up by Christian so that I could talk to them. Both guys said that it was a little weird experience, but that it wasn't bad. When I asked them if they had both ate pussy before in stereo they said yes. I asked if they were up for anal and it seemed like we would need to talk about it more before they would commit to a shoot.